Terramac crawler carrier can be customized for specific applications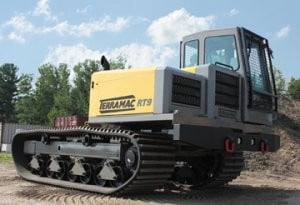 The CE certified Terramac RT9 model has an 18,000-pound (8,200 kg) carrying capacity and is equipped with a 230-hp Cummins diesel engine in both open cab and closed cab options. The unit has rollover protective structure (ROPS) as well as falling object protective structure (FOPS) components. Ground pressure when fully loaded is only 4.9 psi. The RT9?s easy front and rear bolt-on attachments can accommodate a variety of needs in the drilling and general construction industries.
OEMs as well as contractors can easily mount their own machines – cranes, drills, water tanks, and more – on Terramac crawler carriers. Rentals are also available.
A well-received feature of the new carrier is ease of maintenance. For example, cylinder mounts and front and rear attachment plates are all bolt-on for easy replacement. The pivot shaft blocks are also bolted on, rather than welded on. And cleanouts on the frame simplify clearing mud and water from the frame rails as well.
The Terramac RT9 has a 17-foot 7-inch overall length and is 8 feet 5 inches wide with a 9-foot 3-inch height and 20-inch minimum ground clearance. The unit has a 2.5 to 6 mph travel speed and a 10-foot turning radius.

"We ship drill rigs all over the world and we plan to do the same with the Terramac," said Mike Crimaldi, president of Rig Source and one of the creators of the Terramac line. Rig Source, the exclusive distributor of the new carrier, does extensive business overseas and the Terramac will be available internationally.