Takeuchi unveils TL10 and TL12 track loaders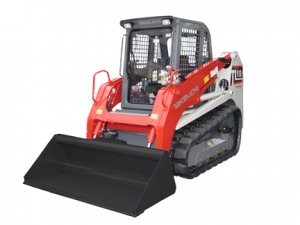 Takeuchi-US has announced the all-new TL10 and TL12 track loaders. Takeuchi's most powerful track loaders to date feature powerful EPA Tier 4i compliant engines with class-leading power and torque, along with an exclusive "Eco Mode" function designed to reduce fuel consumption during operation. New selectable auxiliary work modes allow the operator to fine-tune the auxiliary hydraulic output to three specific attachment settings for reduced downtime on jobsites. The new track loaders also feature a sleek interior with enhanced controls, pressurized cab with improved HVAC performance.
Performance
The TL10 has an operating weight of 10,318 lbs, a tip load of 6,867 lbs (7,793 lbs with optional counterweight), and an improved rated operating capacity of 2,403 lbs (2,723 lbs with optional counterweight). The more robust TL12 has an operating weight of 11,618 lbs, tip load of 8,102 lbs (9,315 lbs with optional counterweight). Couple the increase in operating capacities with the already outstanding breakout forces, reach and lift height, and you can see that Takeuchi clearly provides a line of track loaders with the power and capabilities to perform the most demanding jobs with complete confidence.
For superior strength and durability, the fully welded, purpose-built frame features integrated cross members and an industry exclusive undercarriage that maintains steel-to-steel contact between the large, heavy duty rollers and forged steel imbeds that are incorporated into the rubber track. As with previous Takeuchi track loaders, powerful double reduction planetary drives are positioned rearward to allow more contact points between the sprocket and track allowing incredible traction forces along with better track durability.
Variable flow auxiliary hydraulics
The TL10 and TL12 both feature a Variable Flow Auxiliary Hydraulic System, which offers three easy-to-select settings that can be programmed to match the flow requirements of various attachments. Setting I is standard 100% flow, and Settings II and III can be set anywhere from 0-100% (factory default settings are 75% and 50%). A hydraulic oil temperature light has been added to the gauge panel, and a second auxiliary circuit comes standard on all high-flow machines. The TL10 features a 12.9 gal hydraulic reservoir and offers up to 36.3 gpm auxiliary hydraulic flow. The TL12 comes equipped with a 15.9 gal hydraulic reservoir and offers up to 40 gpm auxiliary hydraulic flow.
Engines
The TL10 features a V3800CRT Kubota diesel engine with common rail fuel injection and turbocharger that helps deliver 7% more horsepower and a 9.4% improvement in torque as compared to previous models. The TL12 features a V3800CRTI Kubota diesel engine with common rail injection, turbocharger, and intercooler that delivers 10.8% more horsepower and a 19.5% improvement in torque as compared to previous models. Both models feature a Diesel Particulate Filter (DPF) to help control particulate emissions, as well as Cooled Exhaust Gas Recirculation (CEGR) for reduced NOx emissions. A swing-out cooler module places the hydraulic oil cooler and engine coolers side-by-side for optimal performance.
New engine power modes
The TL10 and TL12 track loaders feature selectable power modes, which allow the operator to match the engine performance to any specific task. Normal Mode offers a good mix of power and economy for general work, while the Power Mode produces peak engine power for maximum performance. The all-new Eco Mode can provide up to 15% fuel savings while still offering maximum torque and excellent power characteristics, drastically lowering the operating cost of the machine.
The innovative Eco Mode conserves fuel by limiting the engine speed to 2,400 rpm. When engine load is less than 30%, the speed will automatically decrease to 2,040 rpm after 8 seconds. Conversely, when power demand exceeds 30%, the engine speed will return to the throttle position setting.
Cab features
In addition to the improvements in performance and operation, many enhancements and special features have been incorporated into the interior of the operator's cab. First, the new track loaders feature a sealed and pressurized cab, which helps maintain a clean environment for the operator. The cab also features improved blower fan and HVAC performance, and a high-back seat with adjustable suspension rate and height settings for improved operator comfort. Additional available options include a 3-point seat belt, heavy-duty radio and ride control.
The roll-up door can be opened regardless of the boom/attachment position and can be locked in the open position for operation. Takeuchi's precision pilot controls are complemented by an innovative quick-change selector valve – available as a factory option – which allows the operator to select between ISO or H pattern controls. An easy to use multi-function control handle provides fingertip control to the 14-pin attachment connector while a heavy duty rocker switch now provides control of the "G" and "H" pins of the connector providing more attachment versatility and control.