Cutting edge replacements deliver outstanding wear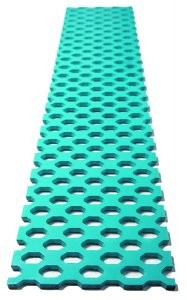 Nova Ground Engaging Tools offers two types of cutting edge replacements.
Conventional replacement cutting edges for OEM equipment are for excavators, backhoes and loaders. These are a standard weld-on/bolt-on design made from Wear-X steel. They are availble in thicker, wider, shorter, longer or other custom options to maximize your wear and minimize your down time.
The new BX500 cutting edges are made for graders and plows. They are thin, light and strong, made of Wear-X hardened steel and weigh approximately 8.5 pounds per foot versus 15 pounds per foot for conventional grader edges. Teeth stay sharp and provide maximum cutting at all times. They provide over 75% wear steel before replacement is needed, compared to 35% to 65% wear steel for conventional grader edges. The edges are a universal fit for all graders and conditions. They are easily mounted and adjusted on the roadside with minimal hand tools required. Plus, easy change out means less down time. Less down pressure is required, which means huge fuel savings, reduced tire and hydraulics wear, and less operator fatigue. BX500 edges work great in gravel, dirt, hard pack snow and ice. They also remove wash boarding and bring up the fines, while the grooves left on the road allow for increased traction, and for salt and sand to remain in place and stay effective.