Genie 8K telehandler
"Stem to stern" enhancements offer greater benefits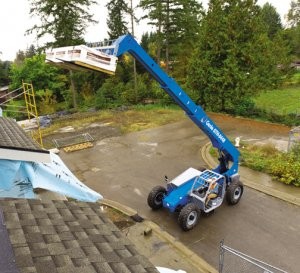 Genie's 8,000-pound capacity telehandler, the GTH-844B will replace the existing GTH-844 model and will be in production in the fourth quarter of 2012.
The GTH-844B telehandler has a maximum lift height of 44 ft (13.4 m), with a maximum reach of 28 ft (8.5 m) and a gross lifting capacity of 8,000 lbs (3628.7 kg). The lift capacity at maximum height is 6,000 lbs (2721.6 kg) and capacity at maximum reach is 2,000 lbs (907.2 kg). The operating weight is 25,000 lbs (11339.8 kg).
The GTH-844B telehandler is a new machine from stem to stern, including a more environmentally-friendly Tier 4i diesel engine, a change in engine position from centre-rear mount to right-side mount, a new ergonomic operator's station, a narrowed width to 96 inches, and improved serviceability. Engine options include either Deutz or Perkins.
"Using customer input, we have completely redesigned our 8K telehandler," said Scott Krieger, Terex Aerial Work Platform (AWP) senior product manager for Genie booms and telehandlers. "By moving the engine and lowering the dash, the GTH-844B provides excellent visibility while also providing greater access for serviceability. We are also pleased to be doing our part towards improving the environment by offering Tier 4i engines."
Also new is an improved control station creating a better working environment for the operator. The GTH-844B features a tiltable steering wheel, an updated single-lever joystick control, and new gauge and switch packages.
By narrowing the machine, the GTH-844B offers improved maneuverability, will fit through narrower doorways, and enables transport without a special over-width permit. New axles help to improve the geometry of the machine's steering, creating a well-balanced product.
"This new telehandler will set the standard for 8Ks in the rental arena and marks our strong commitment to this product category," said Krieger. "You can expect Genie to be a formidable player in this space now and in the future."
The GTH-844B will be available in both North and South American markets.