Case updates N Series loader/backhoes, achieves Tier 4 Interim certification
N Series machines deliver best-in-class breakout force, lift capacity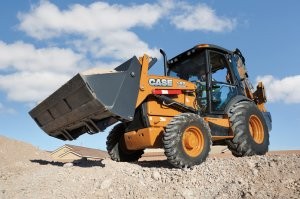 Case Construction Equipment announced a variety of improvements to its industry-leading N Series loader/backhoe product line. The upgrades include the application of cooled exhaust gas recirculation (CEGR) emissions-control technology to achieve Tier 4 Interim certification, as well as important improvements in performance, productivity and maintainability.
The Case 580N, 580 Super N, 580 Super N Wide Track and 590 Super N loader/backhoes now feature 3.4-liter, turbocharged engines, ranging from 78 hp (58 kW) in the 580N to 108 hp (80 kW) in the 590SN. The Tier 4 Interim-certified engine—with CEGR technology—burns cleaner while delivering superior horsepower, faster response and up to 4-percent better fuel efficiency under load.
Other new standard N Series features include automatic Ride Control on four-wheel-drive models that engages at roading speeds to help reduce bucket spillage; and remote hydraulic test ports that allow easy, ground level access for service diagnosis to keep the machine up and running, reducing the expense associated with downtime.
Case also has added a standard panel of dipper teeth on the bottom surface of the dipper, along with an optional extension/replacement pack that can expand the area of the dipper covered with serrated teeth. The dipper teeth enable the machine operator to secure unusually shaped or oversized pieces of debris or rock by pinning those objects against the dipper with the bottom of the bucket. The dipper teeth not only provide superior control of materials being moved, but they also protect the dipper from excessive wear.
New optional features include a block heater for easy, convenient cold-weather starting, and a remote jump start with master disconnect switch to enhance security and convenience during jump starts.
"With these important upgrades to the N Series loader/backhoes, Case maintains our longstanding leadership in providing customers with the industry's best loader/backhoe product line," said Rob Marringa, Case brand marketing manager.
Case launched its four N Series loader/backhoe models in late 2010, extending a legacy of loader/backhoe leadership that began when Case introduced the industry's first factory-integrated loader/backhoe in 1957. The N Series models offer best-in-class backhoe breakout force and lift, along with increased loader breakout force, lift and reach.
Case Power Lift boosts backhoe capacity to move extra-heavy objects
Case N Series loader/backhoes offer the industry-exclusive Power Lift feature that channels the hydraulic power directly to the boom with the touch of a button. "As a result, our backhoe lifting capabilities outperform competitive models by as much as 39 percent – while running at low engine RPMs," Marringa said.
The Case N Series machines also deliver more power to the loader, for increased breakout and lift capabilities. The new loader arms are stronger and longer, providing greater loader reach. This lets operators dump material into the center of a truck for faster loading and increased payloads.
The Case N Series loader/backhoes offer several transmission choices, including the Powershift S-TypeTM, Powershift H-TypeTM and Powershuttle options. All transmission choices are available on the 580SN, 580SN WT and 590SN. The 580N offers the Powershift S-Type and Powershuttle transmissions.
The N Series machines deliver improved cycle times and efficiencies through the new Variable Volume Hydraulic (VVH) System. The VVH System operates at a lower temperature than competitive hydraulic systems. The 580N continues to offer a single gear pump open hydraulic system.
Marringa added that Case N Series loader/backhoes give contractors a solution for excavating, digging, carrying and loading, along with the ability to drive to a jobsite at up to 24 miles per hour.
Attachments add value
Case also offers a range of attachments for the N Series loader/backhoes, including a new hydraulic thumb, hammers, brooms, forks, augers and rakes. Case leads the industry in providing the only cab-activated hydraulic backhoe quick-coupler, hand-held hydraulics and loader quick-coupler options.
Company info
Related products