BOMAG tandem vibratory roller delivers optimal compaction with Asphalt Manager II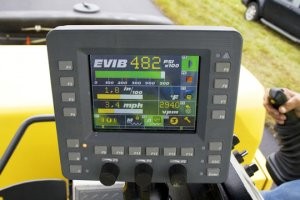 BOMAG's BW278AD-4 AM tandem vibratory roller is equipped with exclusive Asphalt Manager II technology to deliver continuously optimized compaction performance, regardless of operator experience.
The new Asphalt Manager II system measures and controls the roller's compaction performance during operation, resulting in unmatched efficiency and consistent density results. The system continuously monitors the stiffness of the asphalt mat, and automatically increases or decreases the compaction force as needed. A real time BOP display lets the operator constantly monitor the asphalt surface temperature, material stiffness, roller speed and amplitude. Asphalt Manager II can also be utilized for proof rolling to allow inspection of base work prior to paving.
BOMAG's innovative ECOMODE system automatically optimizes the performance of the roller's 130-horsepower Deutz water-cooled diesel engine by matching engine output to the power required for compaction. In addition to lowering fuel costs, the system reduces engine emissions and jobsite noise.
Offering a working width of 78 inches, the BW278AD-4 AM delivers maximum frequency of 3,000 vibrations per minute (vpm) to quickly achieve density on various mixes. Vibration frequency is infinitely variable from 2,500 to 3,000 vpm, allowing the rollers to be used in a wide variety of applications. The maximum centrifugal force of 55,575 pounds provided by the front drum is 35-percent higher than units without Asphalt Manager II, allowing the roller to complete compaction in fewer passes.
The BW278AD-4 AM offers enhanced operator ergonomics and controls. The cockpit with sliding/swivel seat provides improved operator comfort and visibility, reduced fatigue, and increased efficiency. The swivel seat makes it easy for the operator to adjust positions while providing a clear view of the roller drum edges. When the seat position is reversed, the joystick controls reverse automatically for natural right/left, forward/back control. An intuitive instrument cluster provides responsive, easy-to-read feedback of machine vitals and mat conditions.
Additional features include a single hood for easy service access from a standing position, flush-mounted ROPS/FOPS for ease of working next to walls and guard rails, block-type drum isolators, hinged scraper bars and optional night paving lights. Water tanks hold a total of 318 gallons to permit longer operation between refills, while new nozzles and an interval water spray system reduce water use.