Largest telescopic stacking conveyor in the world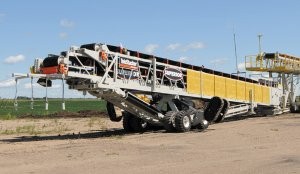 Built for high production, the TeleStacker conveyor is the largest telescopic stacking conveyor in the world with operating tonnage ranging from 200 to 5,000 tph. It also has the ability to stockpile 30-percent more material per move than similar radial stackers.
As a result of the robust steel construction of the FB Undercarriage, the TeleStacker conveyor is up to 35 percent heavier than most competitive conveyor machines, leading to enhanced stability and durability. Incorporating a wide base and heavy-duty internal conveyor support rollers, the unit offers heightened safety and stability both during operation and travel – even on rough terrain. Each support roller carries evenly distributed weight, reducing overall stress and extending the unit's life.
To ensure smooth mobility and flotation even over difficult terrain, the TeleStacker conveyor can be equipped with steel tracks and attached to Superior's patented FD Series Axle. The combination enables fast, easy transition from radial to linear travel modes. The operator is able to simply lower the FD tracks into position to access the stacker's radial model or hydraulically lift them up for linear travel.
Every TeleStacker Conveyor is custom designed and built to accommodate individual requirements and unique applications.
The Mine Duty model is equipped with belt widths ranging from 24 to 72 feet.