New "J" Series Crusher added to McCloskey Line
Machine diagnostics can drastically reduce maintenance downtime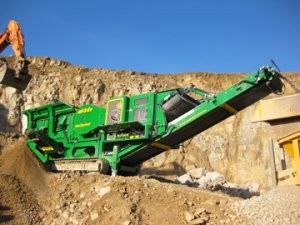 McCloskey International has introduced a new addition to its "J" series of crushers, with some unique features that make the J44 Jaw Crusher a standout in its category.
The J44 main conveyor has a large stockpile capacity (12' – 11") as a result of the standard extended 42" conveyor, and the large gap between crusher discharge and the main conveyor feedboot. The folding Hardox hopper is mounted over the vibrating feeder with integral pre-screen. Further, the feeder rate can be regulated manually or automatically by the load sensing jaw.
The J44 has an I-beam plate fabricated chassis construction, and features a true 44" x 26" (1118 mm x 650 mm) single toggle jaw with reversible hydrostatic drive and jaw plates as well as fully hydraulic closed size setting adjust capability.
Ease of maintenance is a strong advantage for the J44. The Control Panel is user-friendly and has machine diagnostics that can drastically reduce downtime for maintenance. Adding to the ease of maintaining a J44, the conveyor is easily removable as it raises and lowers hydraulically and the CAT C9 ACERT engine has all round access.
With the advantage of the efficiency of McCloskey's integrated hydraulics, better fuel economy is realized and the J44 can be on-site and operational in a matter of minutes with its folding hoppers and conveyers. Easy to move from site to site, the J44 has transport dimensions of 11'-1.8" (3.4 m) high and 47' - 5.5" (14.465 m) long, and weighs in at 88,184 lbs. (40,000 kgs).
With additional options like a water pump and dust suppression system, hopper extensions, an overband magnet or Crusher Deflector Plate, as well as robust standard safety features, the J44 is high performance and productive.
J44 SPECIFICATIONS:
DIMENSIONS AND WEIGHTS
Transport Length: 14.465 m (47' – 5.5")
Transport Width: 2.5 m (8' – 2.5")
Transport Height: 3.4 m (11' – 1.8")
Weight (estimated): 40,000 kgs (88,184 lbs)
CAPACITIES
Diesel tank capacity: 636 L (168 USGAL)
Hydraulic tank capacity: 1200 L (317 USGAL)
CRUSHING CHAMBER
Feed Opening WxH: 1118 x 650 mm (44" x 26")
Crusher Speed: 280 rpm
Crusher Drive: Hydraulic – Banded V-Belts
Jaw Weight: 13,000 kgs
Motor: Kawasaki axial piston 280 cc/rev
Flow Rate: 315 LPM (83.2 USGPM)
Load Sensor: Hydraulic
GRIZZLY FEEDER
Feeder width: 1080 mm (42.5")
Feeder length: 4050 mm (13' - 3.3")
Drive: Hydraulic direct drive
Motor: David Brown MCC 1911 51.8cc/rev
Flow Rate: 68.4 LPM (18.1 USGPM)
Adjustable Speed: YES – via mechanical Flow Control
Maximum Speed: 977 rpm
HOPPER
Length: 4530 mm (14' – 10.2")
Width: 2222 mm (7' – 3.4")
Volume: 6.8 m3 (8.9 yd3)
Material: 8 mm Hardox sides
Locking System: Wedge type and toggle
SIDE CONVEYOR
Stockpile height: 2100 mm (6' – 10.5")
Belt width: 650 mm (26")
Belt spec: EP – 400/3 3+1.5
Drive drum diameter: 220 mm (8.6")
Tail drum diameter: 220 mm (8.6") - spoked
Motor: OMT400
Flow rate: 43.7 LPM (11.5 USGPM)
Adjustable speed: YES
Maximum speed: 109 rpm
MAIN CONVEYOR
Stockpile height: 3940 mm (12' – 11")
Belt width: 1050 mm (42")
Belt spec: Plain – 500/3 8+2
Drive drum diameter: 285 mm (11.2")
Tail drum diameter: 270 mm (10.6") - spoked
Motor: OMV630
Flow rate: 87.4 LPM (23.1 USGPM)
Maximum speed: 138.7 rpm
Angle adjustable: YES
Quick release: YES
POWERUNIT AND HYDRAULICS
Engine: CAT C9
Engine power: 205 kW (275 HP)
Engine speed: 1900 rpm
Total system flow: 535.8 LPM (141.5 USGPM)
Hydraulic tank capacity: 1200 L (317 US gal)
Hydraulic tank ratio: 1.87 : 1
Hydraulic oil cooler: YES
Related products