Kawasaki's Z7 wheel loaders for recycling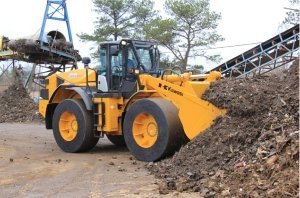 The most apparent change in Kawasaki's new Z7 wheel loaders is the appearance. The model's styling changes include improved visibility and serviceability. The first two models of Kawasaki Z7 wheel loaders are the 85Z7 and 90Z7.
The 85Z7 is a strong 221 net horsepower wheel loader powered by an Isuzu engine. With a 4.8-cubic-yard general purpose bucket, the 90Z7 wheel loader is bigger than its predecessor and packs 280 net horsepower using a Hino engine.
According to Kawasaki, they have been a strong performer in the Scrap and recycling industry for many years. Now, with their latest models, previously optional equipment, including a backup camera, is now standard, as is a wide fin radiator with automatic reversible fan. Plus, with guarding options such as an articulation area guard, front and rear chassis belly guards, and wheel seal guards, vital areas of the loader are well protected.
Additional options include steel light housings with protective guards, a steel radiator grill, quick coupler and 3rd-spool hydraulics, autolube system, windshield guard, limited slip differentials, and ride control. Kawasaki