2013 GMC and Chevrolet bi-fuel pickups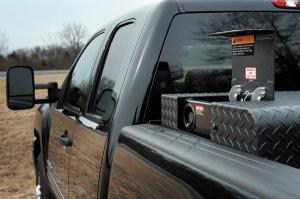 General Motors' bi-fuel 2013 models of Chevrolet Silverado and GMC Sierra 2500 HD extended cab pickup trucks will have a Vortec 6.0-litre V8 engine that seamlessly transition between compressed natural gas (CNG) and gasoline fuel systems. Combined, the trucks are expected to offer a range of more than 1,000 kilometres. The Silverado and Sierra will be available in standard and long box, with either two- or four-wheel drive. Fleet and retail consumers will be able to place orders later this year.

GM is the only manufacturer to offer a single-source option for its gaseous fuel vehicles. The bi-fuel trucks are built with a specially designed engine, the fuel system is installed by GM's Tier One supplier, and the completed vehicle is delivered directly to the customer. This process makes ordering the bi-fuel option as seamless and efficient as a standard vehicle.

"The bi-fuel truck provides businesses with added re-fueling flexibility and eases consumer range concerns that typically come with CNG, all while reducing emissions and controlling costs," said Joyce Mattman, director, GM Commercial Product and Specialty Vehicles. "This turnkey ordering process, combined with the best warranty in the industry for a commercial product, makes our bi-fuel truck an attractive option, especially for commercial customers."

The bi-fuel commercial trucks will be covered by GM's three-year, 60,000-kilometre new vehicle limited warranty and five-year, 160,000-kilometre limited powertrain warranty and vehicle emissions warranty, meeting all Environment Canada emission requirements. It is the most extensive warranty offered by any manufacturer on commercial products.