Liebherr hydrostatic-drive, Tier IV wheel loader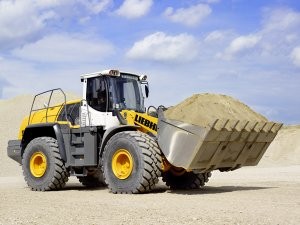 Liebherr's first wheel loader to meet EPA Tier IV Interim emission standards will be available in Canada later this year. The L580 has a tipping load rating of 40,790 pounds, 6.5-cubic-yard bucket capacity, and an operating weight of 54,190 pounds.

It uses a new 288-hp engine that features common rail fuel injection. A diesel particulate filter is used to reduce emissions further. In most applications, active regeneration can be utilized, allowing uninterrupted productivity during filter cleaning.

Additional fuel savings and performance is provided by the newly developed Liebherr Power Efficiency (LPE) system. Drawing on the characteristic performance parameters of the hydraulic components and engine, LPE electronically ensures that the performance profile is adjusted to the maximum performance efficiency, resulting in an additional fuel savings of up to eight percent.

Liebherr continues to focus on the hydrostatic drive concept as it offers outstanding fuel efficiency, minimal tire wear and brake wear as well as exceptional traction control. The new generation of machines has been further optimized with an increase in engine horsepower, as well as tipping load.

The cooling system remains mounted directly behind the cab with transversely mounted radiators, improving visibility. The access panels have been redesigned and are now hinged upward to make maintenance and cleaning even easier.

The operators cab remains one of the most comfortable in the industry. The new mounting system significantly reduces vibration and noise, while the new operator's seat integrates the control console so the unit adjusts and moves as one. Multi-function joysticks, air conditioning and touch-screen display are standard.