Digital wireless observation system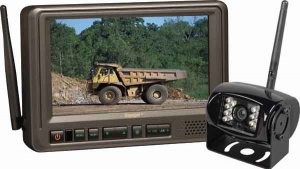 When dealing with heavy machinery it is vital to have a clear view of the entire vehicle surroundings. To help solve this dilemma, ASA Electronics is proud to introduce the new Voyager ToughCam 7" digital wireless observation system featuring WiSight technology to the heavy duty industry. This system supports up to 3 cameras, one wireless and two wired. Plus, this system's large, easy-to-see monitor will give drivers a crystal clear picture of any function not viewable from the driver's seat.

The revolutionary WVOS7MDCL1B features WiSight technology which helps to eliminate dangerous blind spots and visibility limitations often encountered in a construction environment. This technology digitally locks the camera to the monitor, blocking all outside signals along with eliminating interference and noise typical of analog wireless systems. The WVOS7MDCL1B also features a strong signal that transmits through and around objects up to 60+ feet.

The large 7" screen provides viewers with a sharp, vivid picture of the vehicles surroundings allowing the driver to safely perform many driving maneuvers such as reversing or maneuvering around a worksite. The monitor features a suction cup mount so it can be attached to the windshield and easily be transported between vehicles. The monitor also has a built-in speaker and convenient front controls for power on/off, brightness adjustment and volume control.

The Voyager ToughCam camera features wide viewing angles, infrared LED illumination for low light performance, a built-in microphone and mirror image orientation. The camera easily connects to the running lights or other 12 volt power source.