Full line of heavy-duty inground lifts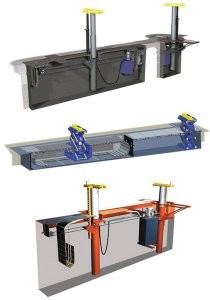 With the introduction of the EFX60 scissor lift, Rotary Lift now offers a full line of inground lifts. The traditional heavy-duty inground lift is the most affordable because it is the most basic model. Its pistons are housed in a nine-foot-deep continuous concrete vault. It features push button controls mounted on the floor or wall, a wheel spotting dish for axle positioning and a front jack with hydraulic adjustment.

The EFX60 scissor lift is modular and located in a concrete trench less than three feet deep. It requires just 3 1/2 gallons of hydraulic fluid per cylinder. Like the traditional inground lift, the EFX60 is equipped with a wheel spotting dish for axle positioning.

The MOD30 is contained in a six-foot deep steel enclosure that is completely sealed inside and out with Rotary Lift's exclusive EnviroGuard coating. The MOD30's upright control console provides lift status, operation and maintenance information, online training guides and programmable wheelbase settings to save technicians time.