State-of-the art off-highway machine information displays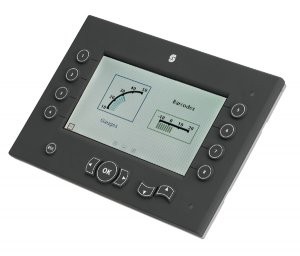 The new Sauer-Danfoss PLUS+1TM compliant DP600LX Series Mobile Machine Displays is designed to meet the increasing demands of electronic system control and monitoring. The series provides mobile off-highway machine OEMs with next-generation color and monochrome graphical displays for both in-cab and open-air applications. The DP600LX, DP610LX and DP620LX displays feature a more powerful processor, a new operating system, enhanced industry-leading viewability and new features compared to previous models.

"Demand for state-of-the art off-highway machine information displays continues to rise," said Joseph P. Maher, Product Marketing Manager of Electronic Components at Sauer-Danfoss. "The advanced Sauer-Danfoss PLUS+1 compliant DP600LX Series Mobile Machine Displays provide rugged, high-performing, cost-efficient solutions that increase operator productivity — making them ideal for vehicle applications seeking differentiation.

"The DP600LX Series offers not only a robust display platform for the future, but also backward compatibility for existing applications."

'New Engine Under the Hood'
Sauer-Danfoss DP600LX Series models are high-resolution, transflective thin film transistor (TFT) liquid crystal displays with eight soft keys and six buttons for navigation. Each display is user-programmable with PLUS+1 GUIDE (graphical user integrated development environment).

Driving the new mobile machine displays is a new ARM-11 processor that provides greater responsiveness and faster screen data updates than its predecessor. Utilizing multimedia capability and 532MHz clock speed, the new processor performs 10 times faster. Graphics update two to three times faster and application execution is five to 10 times quicker. The new processor is capable of supporting higher screen resolution, offering the opportunity for future development.

DP600LX Series displays run on a versatile LinuxTM operating system, the recognized industry standard for displays. Linux allows use of the screen editor in the Sauer-Danfoss GUIDE tool chain or an alternative screen editor.

"The ARM-11 processor is like a new engine under the hood, powering the DP600LX Series displays to optimal performance," Maher said. "The smooth new operating system serves as the transmission, helping the operator maximize the efficiency of electronic system control and monitoring."
The LCD, enclosure design, screen resolution and screen editor are similar to previous models, enabling backward compatibility.

Industry-Leading Viewability
Sauer-Danfoss has enhanced viewability that was already best-in-class, incorporating 15-bit true color and optional optically bonded LCD/lens technology into the DP600LX Series. Available with DP600LX and DP610LX models, optically bonded LCD/lens technology enhances clarity, increases sunlight visibility and prevents fogging by eliminating the air gap between the lens and the LCD module.

"We took industry-leading viewability and made it even better," Maher said. "The DP600LX Series displays feature sharper color that is clear and legible in sunlight and bright and powerful at night for maximum viewability."

New Features
DP600LX Series models include two external video inputs for providing system overview. The series has the new capability of supporting both NTSC and PAL video feeds, offering global compatibility with regional formats and cameras.

Additional new key features include:
· USB host support that allows the download of machine application log data to a USB memory stick (GUIDE 5.0 required)
· A wider voltage range (9 to 70 Vdc)
· Increased input/output functionality with software-controlled multifunction inputs (digital, analogue, frequency, current)
· 16 MB of application and logging memory for increased capacity to store machine operating data

The new color graphical displays join the flexible, powerful, expandable and growing PLUS+1TM family of mobile machine management products that integrate seamlessly with other Sauer-Danfoss PLUS+1 products. This synergy among components enables accelerated mobile machinery development and ultimately maximizes machine productivity and operator comfort.

DP600LX Series displays include robust mechanical, electrical and environmental specifications that meet the harsh operating conditions found in mobile machine applications.