MB introduces world's largest crusher bucket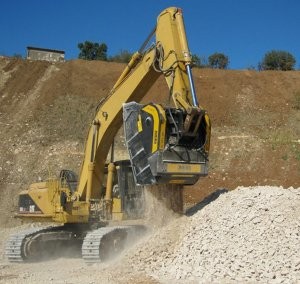 MB S.p.A., the Vicenza, Italy-based company founded in 2001 and recognized as world leader in the production and sale of crusher buckets, introduced two new MB products at the Intermat tradeshow recently held in Paris: the BF 150, weighing10 tonnes and the biggest crusher bucket in the world, and the MB-L, the smallest crusher made by the company.

Suitable for excavators of 70 tonnes and upwards, the new BF 150.10 is the ideal product for those working in large quarrie, as it is capable of great achievements in terms of productivity and efficiency.

For much smaller machinery, the new MB-L is small and manageable, and has a very high production yield. It is capable of crushing any type of material.

The constant efforts for customer satisfaction, the continual improvement in results and a company policy geared towards 100 percent quality, are values MB S.p.A. has pursued from the very beginning. The innovative nature of its products, recognized on an international level and with many awards received in different sector tradeshows, has become MB's strong point, as the company continues at the same time to invest in marketing initiatives, tradeshows and communication campaigns.

The company is always striving to satisfy customer expectations by being on hand and by carefully listening day to day to customers' on site problems, finding appropriate solutions to the different international situations in which MB S.p.A. operates.