New Doosan DA30 articulated dump truck
Power and Performance highlight latest in a line of redesigned machins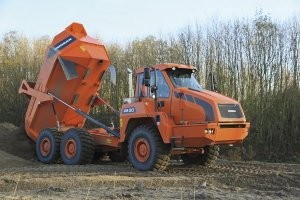 The new Doosan DA30 articulated dump truck is the latest in a line of redesigned machines offering increased engine power and torque, higher payloads, lower fuel consumption, enhanced operator comfort and faster travel speeds.

Powered by a 6-cylinder interim Tier 4 compliant diesel engine with a gross power output of 365 horsepower, the new DA30 offers an 8 percent increase in engine power compared to the previous MT31 model. With a 28 percent increase in gross torque to 1381ft.-lb. at 1300 rpm, combined with a higher top speed of 34.2 mph, the DA30 is a top contender in its class.
Contributing to the overall eight percent reduction in fuel consumption is the new transmission offering eight forward and four reverse speeds. The new transmission improves the transfer of power from the engine to the wheels for outstanding traction. To withstand the increased power, the driveline dimensions and cooling capacity of the truck have been increased.
Better performance
\The DA30 has been optimized for extreme performance. The exceptionally agile undercarriage, designed to ensure that all six wheels are in permanent contact with the ground, means the DA30 can operate on very rough and soft terrain on construction sites such as road projects and mass excavation hauling as well as in mining and quarrying applications.

The sloping design of the DA30 enhances the stability of the machine thanks to its low center of gravity and allows fast and easy dumping, even in the most demanding conditions. Permanent six-wheel drive provides equal power distribution while the free-swinging rear tandem bogie and the special articulation system offer excellent driving performance in difficult terrain.
The articulation hinge is positioned behind the turning ring to provide equal weight distribution to front wheels, even during maximum turning, and ensures full contact between the front wheels and the ground for optimum traction. The DA30 uses two hydraulic shock absorbers and tall rubber springs on each side, along with no rigid axle, to provide a totally independent suspension.
Like all Doosan ADTs, the DA30 features a powerful engine brake and hydraulic transmission retarder as standard. The wet brakes offer a long service life and sealed protection from the environment and, with oil-cooled multiple disc brakes on all the wheels, the DA30 can handle various operating conditions.

A completely new cab provides the operator with more space and improved visibility, best-in-class noise levels and a fully automatic climate control system. The fully automatic 8-gear transmission and smooth Tiptronic™ gear-shifting (both automatic and manual gear functions are available) allow the operator to concentrate on working conditions, while a new electronic system and simplified fingertip controls with digital display make operating easier.
The cab of the DA30 can be tilted backward to provide easy access to components for hassle-free routine maintenance. Easier service access and longer service intervals result in lower operating costs. A fully automatic central greasing system and rear view camera are standard.
The DA30 — like every new Doosan machine — is covered by an innovative 48 hour parts guarantee. The program guarantees that if a "machine-debilitating" part is needed, Doosan will deliver it directly to the end user within two business days or Doosan will pay for a replacement machine rental. The 48 Hour Parts Guarantee is subject to carrier delivery restrictions and/or governmental agency delays.Doosan DA30 articulated dump truck