Terex TA400 articulated truck powered by Scania DC13 engine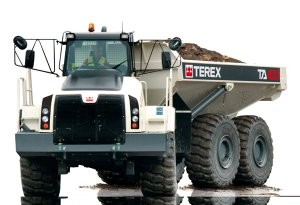 Designed to work on jobsites ranging from sand and gravel quarries to coal mines and road construction projects, the new Terex TA400 Generation 9 articulated truck is designed to keep productivity levels high, fuel consumption low and cycle times short. Boasting a 444 hp (331 kW) Tier 4 interim compliant Scania DC13 engine, the powerful TA400 has a maximum payload of 41.9 tons (38 t) and a heaped capacity of 30.3 yd³ (23.3 m³).

With a world-class, emissions-compliant engine offering maximum torque of 1,548 ft-lb (2,100 Nm) at 1,350 rpm, coupled to a fully automatic Allison transmission through a two-speed drop box, the new TA400 provides both exceptional rim-pull and high-speed capabilities. The new Generation 9 TA400 is equipped with dual retarder systems, a transmission retarder and exhaust brake, giving operators increased control in loaded, downhill hauls. Engineered with a permanent all-wheel-drive (6x6) driveline and equalizing rear suspension, the new TA400 also offers exceptional traction capabilities. A four-bar trailing arm suspension system contributes to this new Terex truck's exceptional ride quality, allowing operators to travel faster and more comfortably on difficult terrain.

"The combination of high torque, high horsepower, high capacity and top speeds make the Terex TA400 Generation 9 articulated truck a class leader in productivity," says Terex Product Manager, Ken Emmett. "The new TA400 is engineered to provide maximum rim-pull and gradeability for negotiating inclines, and with its high range in the drop box for high-speed hauls and a large body capacity designed for high retention, this articulated truck offers customers an excellent cost-to-value ratio."

Designed to reduce downtime, the service points on the new TA400 are designed for quick and easy access. The electronic-assisted hood raise and the fully tilting cab simplify access to major components and ground level service points, which further reduces downtime.

Low cost of ownership is also a key feature of this Terex Generation 9 articulated hauler. It is equipped with oil-cooled, wet disc brakes on all six wheels that provide extended brake component life, reduced service intervals and operating costs and improved overall braking performance. With its dual retarding systems, the new TA400 does not induce break wear when retarding.

The new TA400 is equipped with state-of-the-art computerized systems that communicate to each other through a CAN-bus system which helps ensures that the truck is running at peak efficiency. With this communication system, truck data can be optionally transmitted via satellite to almost any location.

The cab of the new Terex TA400 Generation 9 truck is developed to offer operators excellent comfort and control for a productive behind-the-wheel experience. It boasts many features, including reduced interior noise levels, an improved air conditioning system, a high-quality sound system and a standard rear view camera. The interior aesthetics have also been updated to anthracite grey with a matte finish to reduce glare.

Related products