Shovels and trucks pair for efficient loading and hauling functionality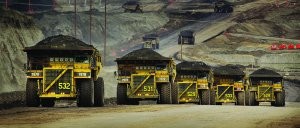 When volume is the key to profitability, pairing loaders and haulers can be important. Cat offers a solution for large volume mining and oil sands operations that offers a complete solution from pile to processing.

For moving plenty of volume efficiently, the Cat 7495 electric rope shovel is a good choice. These AC machines are the legacy of Bucyrus, the acquisition of which Cat completed in 2011. They are designed to be fast and productive, with greater uptime and operability compared to DC machines, along with lower vulnerability to input voltage variations. The AC drive is more efficient than DC operations, as well. AccessDirect is an electrical interface that allows remote access to the onboard computer through an Internet connection. The MIDAS health monitoring system ensures good performance by logging and analyzing data on a range of machine variables.

Ensuring the best volume of material is moved in each pass is easier thanks to HydraCrowd, which uses a hydraulic cylinder inside the tubular dipper handle. Safety is improved and downtime reduced as the need to replace crowd/retract ropes is removed. The shovels have a payload of up to 109 tonnes, meaning they can load Cat's 797F truck in just four passes.

The 797F, with 4,000-horsepower (2,983 kW) and rated payload capacities to 400 tons (363 tonnes), combines the strengths of its predecessors with a new engine, redesigned operator station and custom body systems. The 797F also offers easier maintenance and enhanced safety provisions. Ground level service points ease access, and 1,000-hour hydraulic filter service intervals reduce required maintenance.

The 20-cylinder, 4,000-gross-horsepower Cat C175-20 ACERT engine has a single engine block and is the heart of the new truck. The engine has accumulated more than a quarter-million hours of field testing in mining trucks and power-generating systems. The C175 displaces 5.3 litres (323 in³) per cylinder – for a total displacement of 106 litres (6,458 in³). The 797F develops 450 horsepower more than its predecessor, the 797B, which used a 24-cylinder Cat 3524B engine displacing 117 litres (7,143 in³).