Range of van solutions
Weather Guard storage and trade packages designed for improved efficiencies in the field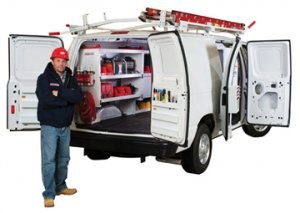 ­ Knaack LLC now offers comprehensive, new WEATHER GUARD Van Solutions including professional trade packages, new bulkheads and shelving, new accessories, and new specialty and secure storage, along with enhanced organization and quick installation features.
WEATHER GUARD profession-specific van storage packages are customized for unique job requirements of general contractors, landscapers and remodelers, plumbers, mechanical/HVAC, electricians, telecom, security, and more. Pro-packages are available for all full-size, high-roof, and compact vans.
New WEATHER GUARD Rapid Mount Shelving has deeper, fully-hemmed, 16² shelves to fit large tool cases and boxes, and tool-less adjustable shelves and dividers. New Secure Storage door and drawer modules offer extra theft-resistance. End panel caps have easy-to-reach tie-down points. Finally, Rapid Mount Shelving comes with notched floor clearance for PACK RAT® Drawer Units or wide supplies.
A wide range of new Red Zone Accessories are announced that mount to shelf end panels, bulkheads, or van doors for easy access to frequently used items. New tool and parts cabinets, cases, bin boxes, and locking cabinets are available, as well as the Cab Command Center - a between-the-seat organizer - and the Grab & Go tool cart.
New specialty storage solutions include a heavy-duty Tool Drawer with Power Pass Electrical Pass-Thru Grommet, complementing the full range of heavy-duty PACK RAT® Drawer Units, lightweight and stackable ITEMIZER® Drawer Units, and the BED RAT® Sliding Platform for side and rear door openings. New WEATHER GUARD® Bulkheads have clear, polycarbonate windows for visibility and safety, and tighter fitting end panels for improved climate and noise control. WEATHER GUARD® Bulkheads continue to offer the exclusive Dog Hatch Door for storing long materials.
WEATHER GUARD® Van Solutions continue to offer a full line of roof racks and ladder racks, including improvements to the EZ-GLIDE® System and QUICK CLAMP® Aluminum Racks. All-Purpose Racks offer a number of mounting and accessory options.
The culmination of years of research, WEATHER GUARD® Van Solutions identified "Red Zones" or work zones in the back, side, and cab of the van, that can be organized to maximize productivity and efficiency. In addition, it has won a recent, prestigious Editors¹ Choice Award for Most Innovative Product*.
"The new WEATHER GUARD Van Solutions have been carefully and painstakingly redesigned to offer professional tradesmen the most innovative features available to improve their unique, on-the-jobsite performance," states senior product manager, Jeff Kotz. "We also added quick installation features to bulkheads, shelving, and more."
All the new WEATHER GUARD® Van Solutions products and professional trade packages can be viewed in a comprehensive, new catalog, along with complete Vehicle and Roof Rack Fitting Guides. Finally, all WEATHER GUARD® Van Solutions offer an exclusive, Limited Lifetime Warranty.
Knaack LLC is a division of EMERSON Professional Tools, also manufactures and markets a complete line of WEATHER GUARD® truck and van equipment, including drawer units, shelving and cabinets, and racks for full size and compact pickups, vans and utility vehicles, as well as KNAACK® jobsite storage equipment, including storage chests, work stations, rolling work benches and hand tool boxes.