User-friendly new website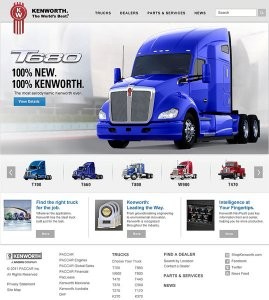 Kenworth Truck Company has launched an impressive and user-friendly new website (www.kenworth.com) that features The World's Best trucks.

"We're made tremendous improvements to the new, informative and easy-to-use Kenworth website," said Reid Nabarrete, Kenworth assistant general manager for marketing and sales. "Kenworth trucks, PACCAR MX engine, Kenworth NavPlus, Kenworth dealers, parts and services information, Kenworth news and more – it's all there to assist customers to learn more about Kenworth or to locate their nearest Kenworth dealer."

The comprehensive Kenworth website offers major sections on Trucks, Dealers, Parts & Services, and News. The Trucks section offers useful information on the full family of quality Kenworth heavy duty and medium duty trucks that serve a wide range of customer applications. These Kenworth trucks include the Class 8 C500, T660, T680, T700, T800 and W900; the T440 and T470 with gross vehicle weight (GVW) rating ranging from 33,000 lbs. to 68,000 lbs.; the new K270 Class 6 and K370 Class 7 cabovers; and the T170 Class 5, T270 Class 6 and T370 Class 7 conventionals. Downloadable brochures are available from the website.

The new, aerodynamic Kenworth T680 – which offers superior fuel efficiency, performance and comfort – is highlighted with an informative 'Making of the Kenworth T680' video showing the T680 in action, a behind-the-scenes look at its development, and customer comments, along with more details about Kenworth's most aerodynamic truck ever.

Learn more about the 12.9-liter PACCAR MX with excellent fuel efficiency, high reliability and durability, lightweight design, and low cost of ownership. Explore the industry-leading Kenworth NavPlus® system, a multi-function communication system which includes hands-free cell phone calls via Bluetooth connections and voice commands. Interested in contacting a Kenworth dealer? There is an easy-to-use dealer contact form.

There are also convenient links to Kenworth's merchandising (www.ShopKenworth.com), Facebook and Twitter sites, along with links to the PACCAR, PACCAR Engines, PACCAR Global Sales, PACCAR Financial, PacLease, Kenworth Mexicana, Kenworth Australia, and DAF websites.