2013 model Hino 195 Crew Cab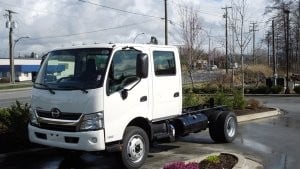 The all new, 2013 model Hino 195 Crew Cab is built on its 19,500-pound GVWR Cab-Over-Engine (COE) chassis, which provides class-leading payload capability. Models have already started arriving in dealer yards.

The four door, six passenger cab is powered by Hino's 5.l-litre diesel engine producing 210 hp and 440 lb.-ft. of torque. Combined with Aisin's 6-speed fully automatic A465 transmission, the Hino 195 delivers performance, long term durability and low cost operation attributed in part to improved aerodynamics.

Hino's new COE is redefining driver comfort with its exclusive magnetic suspension seat in a cab designed to accommodate drivers up to six feet six inches tall. Standard features include air conditioning, keyless entry and Bluetooth. Superb visibility is made possible with Hino's 'wide-view A-pillar' design.

"With the recent introduction of the new Hino COE models, Hino Motors Canada has been setting new company sales records," said Eric Smith, Vice President of Sales at Hino Canada.

"The release of the Hino 195 Crew Cab is an exciting addition to Hino's expanding product line to further its prominence in the marketplace. "This new product is ideal for getting the entire work crew along with all the materials to the jobsite in one trip."

The new Hino 195 Crew Cab is covered by Hino's industry-leading 1-3-5 Customer Protection Program that combines 1 year / 50,000 km free maintenance, 3 years HinoWatch roadside assistance and 5 year / 280,000 km engine and transmission warranty.