Case CX210C excavator boosts power and fuel economy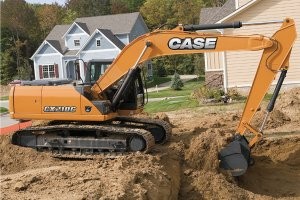 The new Case CX210C excavator achieves 160 net hp (119 kW) using Tier 4 Interim-certified cooled exhaust gas recirculation (CEGR) technology that burns cleaner while delivering superior horsepower. A new narrow undercarriage version, measuring 8 ft 6 in (2.59 m) wide, is available for easier transport.

"The new Case CX210C excavator delivers both the lower operating costs and higher productivity that contractors expect," said Tim O'Brien, brand marketing manager, Case Construction Equipment. He cited 10-percent fuel economy gains, 3-percent cycle time reductions and 7-percent lift capacity increases among crucial product improvements.

"An advanced version of the Case Intelligent Hydraulic System technology reduces total fuel consumption and improves performance," O'Brien said. Boom Economy Control lowers engine RPMs during the boom down and swing operation, while the Auto Economy Control lowers RPMs when the joysticks are inactive. Swing Relief Control technology manages the hydraulic power allotted at the start of the swing operation, and Spool Stroke Control creates an automatic pressure adjustment during digging operations.

"These fuel efficiency gains are especially significant," O'Brien explained. "While typical CEGR systems lose fuel efficiency, we've actually increased fuel efficiency on our Case CX210C excavator by 10 percent over the previous B Series model. While delivering exceptional fuel efficiency, the Case C Series models continue to be in the top of their class for productivity."

He continued, "Because excavators run with little change to engine speed, CEGR technology was the best choice for efficiency and convenience."

Increased productivity
With 3-percent faster cycle times than previous models, the new Case CX210C excavator can load more trucks or trench further during every work shift. Along with faster cycle times, the new Case excavators offer operators smoother and easier control and maneuverability.

The CX210C provides 7-percent more lift capacity and boasts a 440 lb (199.6 kg) increase in operating weight to tackle bigger jobs. The excavator has an operating weight of 47,800 lb (21,685 kg), a bucket digging force 34,171 lb (152 kN), arm digging force of 24,729 lb (110 kN) and a maximum dig depth of 21 ft 10 in (6.65 m). Standard bucket sizes range from .65 to 1.53 yd3 (.5 to 1.17 m3).

The new excavator offers three power modes – SP (speed priority), H (heavy duty) and A (automatic) – to allow operators to choose the best mix of power and fuel efficiency. The throttle settings also adjust the hydraulic settings for further tailoring to specific tasks.

Improved operator comfort, visibility
The Case CX210C excavator gives operators a more spacious, comfortable and quiet cab, with 19-percent better visibility from the operator's seat (including a new roof skylight) compared to previous models.

Noise reduction improvements, including vibration refinement on the cab's reinforced tubular structures, create an extra-quiet cab environment, with automotive-like noise levels as low as 69.9 dBa.

The cab on the new Case excavator provides 7-percent more overall space and 25-percent more airflow. Air conditioning performance also has increased by 8 percent.

New with the C Series is a rearview camera that feeds video to a 7-inch LED monitor in the cab, enhancing operator confidence and jobsite safety during machine operation.

"The monitor in the Case C Series excavators is large and clear," O'Brien said. The operator can easily switch between rear and optional side camera views. Plus, they have simultaneous visibility to key operating data, including a new function which provides fuel consumption per hour. Operators can use this information to refine fuel efficiency for their particular operation.

Case engineers designed the CX210C, like other C Series excavators, with a very low profile that enhances visibility from the cab while efficiently accommodating Tier 4 emission system components.

The CX210C excavator also includes a standard air-suspension seat and an in-cab auxiliary hydraulic setting system with a new option for 10 memory-recall settings to make tool changes quick and easy for operators. A Level 1 ROPS/FOPS (rollover/falling-object protection systems) cab structure provides helps enhance operator safety.

Ease of maintenance
Extended service intervals for the Case C Series excavators help reduce operating costs, O'Brien said.

They are designed with 500-hour engine oil change intervals, 5,000-hour hydraulic oil change intervals and 1,000-hour greasing intervals with Easy Maintenance System bushings. The cab includes new access points to easily reach the air filter and fuse box. The Case CX210C excavator scored a 2-percent improvement over previous models on the SAE maintainability index.

"The new Case C Series excavators efficiently package the redesigned engine, cooling and exhaust systems while maintaining excellent serviceability and operator visibility," O'Brien said. "The machines feature wide-open panels for easy access to service points and ground-level access to grouped lubrication points."

Full range of attachments
Case offers a range of attachments for the CX210C and other C Series excavators, including Case Smart Digging Systems components such as pin-on buckets, coupler buckets, the Case Multi-Fit Coupler and the SmartFit™ bucket tooth system.

Case pin-on buckets are designed for heavy-duty, high-capacity applications such as digging in dense soil, clay, loose rock and gravel. The Case Multi-Fit Coupler offers complete hydraulic latching, enabling excavator operators to quickly attach and detach buckets and other components without leaving the cab. Designed for the Multi-Fit Coupler, Case coupler buckets feature integrated bucket pins to prevent any loss of breakout force that might otherwise occur when using a coupler device.

The SmartFit system provides stronger, more durable teeth and adapters, and hammerless, reusable locking pins. The SmartFit lineup includes general purpose, rock chisel, heavy penetrator, tiger, twin tiger and flare teeth.
Company info
Related products