PACK RAT Drawer Units provide organization and convenience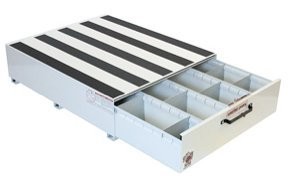 Knaack LLC and WEATHER GUARD Products recently announced the PACK RAT Drawer Units for truck and vans. Made from durable 14-gauge steel, PACK RAT offers easy access to hundreds of pounds of tools and supplies while leaving floor space open for hauling materials or moving in and out of the vehicle.
PACK RAT Drawer Units come in a variety of sizes and layouts to meet the needs of the most demanding tradesman, fit almost any van or truck configuration, and are designed for easy installation. All PACK RAT Drawer Units offer an exclusive Limited Lifetime Warranty.
Multiple drawers and dividers provide endless setups to meet the needs of specific professions, from carpenter to electrician, to HVAC installer. Anti-skid strips on top of the drawer assembly offer traction for wet and muddy boots. Smooth rolling drawers allow easy operation and can carry up to 425 pounds of equipment. Full weather stripping protects against the elements. In addition, drawers are completely removable for easy cleaning and feature a one-touch push button latch assembly for one-handed operation.
PACK RAT Drawer Units come in 1, 2, 3, and 4-drawer units with both wide and narrow drawer compartments. Size options include 9-inch or 12.5-inch heights, and 24-inch or 48-inch lengths. Widths range from 10.25- to 39.75 inches. PACK RAT offers superior organization and storage options.
Combined with the BED RAT Sliding Platform, which provides an extended workspace, they make the tradesman¹s truck or van an efficient jobsite workspace. BED RAT features 750 lb. total capacity, 10.5-inch high side panels, and 70% extension. BED RAT fits trucks or vans and can be installed in both side and rear door openings.
Other options include accessory dividers and ITEMIZER Drawer Units with either side-by-side or stackable drawers.
KNAACK LLC, a business unit of EMERSON Professional Tools, manufactures and markets a complete line of truck and van equipment such as heavy-duty tool boxes, as well as jobsite storage equipment and work stations.