Extendable arm option for Bobcat compact excavator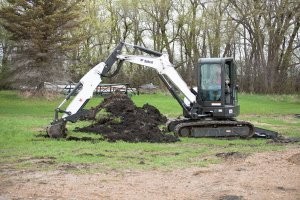 Bobcat (the only company that manufactures compact excavators in the United States) has introduced a new extendable arm option for their M-Series E55 compact excavator.
The extendable arm is a telescoping arm that provides the best of both worlds — power and reach. The new extendable arm option provides an additional 30 inches of reach, when fully extended. The new option is also the first extendable arm for compact excavators in this size class that allows the use of the hydraulic clamp and Hydraulic X-Change attachment mounting system.
Ultimate performance
The new Bobcat extendable arm gives you ultimate reach when you need it, without having to upsize the machine. The arm can be hydraulically extended and retracted as the need arises. When retracted, the arm delivers similar arm force (tear-out force) as a standard arm. Should the operator need to reach back into the trench to clean out material, or needs to reach farther away from the excavation to dump spoil, the arm can be extended an additional 30 inches. Another appealing application for the extendable arm is truck loading. The extendable arm allows the operator to reach to the front or to the far side of a truck to effectively fill the load.
Clamp capability
The new extendable arm option also allows for the use of a hydraulic clamp, something not possible with any compact excavator extendable arm on the market. The clamp capability is a perfect solution for contractors wanting to pick up and place material such as rocks, landscaping materials and debris in site preparation applications.
Fingertip operation
The extendable arm cylinder is operated through a rocker style thumb switch located on the joystick. This allows for fast and simple movements for extending and retracting the arm.

Less repositioning required
The extendable arm's benefits are appealing to those in utility, municipalities and site preparation because it offers the compactness of a standard arm machine with the ability to extend when needed. Working in tight spaces and on concrete and established turf is possible without repositioning the machine. This equals valuable time saved and less re-work required.
In the case of digging utility trenches, the extendable arm ensures a long enough reach to move spoil away from the trench and out of the way, as well as reducing the risk of the trench falling back into itself because of the weight of the nearby spoil. At full extension, the overall length of the arm also simplifies the task of creating flat-bottom trenches for water and sewer utility installations.
Attachment versatility
The extendable arm maintains the versatility of operating attachments. A unique retention pin holds the arm in the retracted position, allowing use of up to16 different attachments. Bobcat's extendable arm also accommodates the optional Hydraulic X-Change mounting system, which allows for even faster attachment changes.