Sandvik Unveils New Track-Mounted Impactor – the QI440 in Action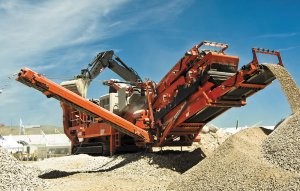 The QI440 is the latest crushing development from Sandvik that combines expertise in the design of track-mounted mobile crushers, with Sandvik's proven ability to manufacture durable and highly productive impact crushers.

The QI440 is a purpose built tracked impact crusher designed to process aggregate and construction materials on site wherever, and whenever, they are required. The QI440 possesses mobility, productivity, transportability, minimal environmental impact and user friendliness at its core.

Powered by a fuel-efficient 330 kW C-13 Tier 3 compliant diesel engine, the Sandvik QI440 is carried on a manoeuvrable tracked undercarriage and incorporates a Sandvik CI322 impactor with a fluid clutch drive. Fed via a two-deck pre-screen, the crusher is a four hammer open-style rotor with a diameter of 1,150mm and a width of 1,330mm and discharges onto a secondary pan feeder. The plant is also equipped with a primary feeder and a separate two-deck pre-screen.

A relatively low weight and compact dimensions – the unit has an operating weight of 49.8 tonnes and is 15.5 metres in length in transport configuration - means the QI440 is transportable in a single load, allowing it to be readily moved and redeployed for maximum utilisation. Optional equipment includes a remote diesel and water pump, an overband magnet for recycling and demolition applications, and a dolly chassis for ease of transport.

The machine is designed to deliver throughputs from 300 to 350 tonnes per hour in materials including granite, slate, limestone, brick and asphalt and is suitable for a wide variety of many applications such as secondary or fine crushing of softer rocks and in various demolition and recycling applications.

They key features of the QI440 include:
· Excellent reduction ratio across a broad product spectrum
· Variable speed primary pan feeder for controlled and continuous feed integrated with engine loading for maximum control
· Independent grizzly and underpan feeder reduces risk of blockages
· Optional recirculation conveyor
· Global aftermarket support, with standard stock parts to ensure maximum uptime.
· Machine designed for optimum fuel economy and low operating costs.