New Holland Construction introduces C Series loader backhoes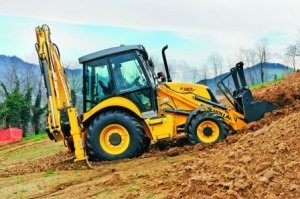 New Holland Construction has introduced the C Series loader backhoes, featuring Tier 4 Interim engines, improved engine response, fuel efficiency and serviceability, and an optional auto ride control. The line-up includes the B95C, B95C TC, B95C LR and B110C.

The C Series loader backhoes continue the New Holland tradition of superior power, performance and serviceability. With backhoe bucket breakout forces of 12,933 lbf and lift capacities at 12 feet (3.66 m) of 3,940 lb (1,785 kg), New Holland C Series loader backhoes excel in tough conditions, making these machines ideal for job tasks such as digging trenches or placing pipe.

"These machines deliver the power and torque needed to get any digging, loading, trenching or pushing job done faster," said Dave December, director of global marketing communications, CNH Construction Equipment.

The new C Series loader backhoes feature Tier 4 Interim emissions certified diesel engines, ranging from 95 net hp (71 kW) to 108 net hp (81 kW). The engines leverage cooled exhaust gas recirculation (CEGR) emission technology and use a diesel particulate filter (DPF). With the CEGR system, the production of nitrogen oxides

(NOx) inside the engine is reduced by lowering the combustion temperature with a partial exhaust gas recirculation system. The levels of particulate matter are then reduced by an exhaust filter system, the DPF.

The new Tier 4 engines also deliver faster response and increased fuel efficiency – up to four percent over previous models. "We are committed to providing our customers with the superior equipment performance they expect. The New Holland Construction C Series loader backhoes improve fuel efficiency without compromising engine performance, and offer our customers additional savings on operational costs," December said.

The ease of serviceability on the New Holland C Series loader backhoes provides maximum uptime and profit. A new tilt forward hood, which replaces the flip-up hood on previous models, is easy to open, and provides wide access with low effort for routine maintenance needs.

The new C Series loader backhoes feature an optional auto ride control, replacing the standard ride control on previous models. Previously reserved for wheel loaders, the auto ride control provides stronger loader performance, greater ease of operation and helps reduce spillage and machine looping at elevated speeds. When the operator is traveling at a slower speed, such as pushing into a soil pile, the ride control system automatically shuts off.

The C Series loader backhoes include the B95C LR (long reach) and B95C TC (tool carrier) models. The B95C LR combines the compact size of the B95C with the longer stick of the B110C and provides excellent dig depth, reach and fuel consumption. Ideal for material handling use, the B95C TC delivers true self-leveling to the loader both up and down.

Attachments provide versatility, value
A full range of attachments for the C Series loader backhoes is available from New Holland Construction, including augers, booms, forks, hydraulic hammers and rakes. An optional auxiliary hydraulic circuit can be used with a mechanical quick-attach system or an electro-hydraulic quick coupler for fast and easy hookup to many attachments.