Kobelco's largest Mark 9 excavator tackles heavy applications with ease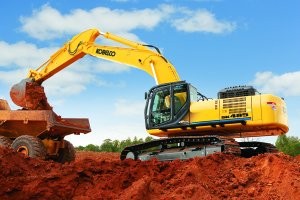 Kobelco Construction Machinery America today introduced a new full-size, high-performance excavator, the SK485. The largest of the Kobelco Mark 9 excavator series – which includes the SK210, SK260, SK295 and SK350 excavators – the Tier 4 SK485 Mark 9 delivers up to 15-percent improvement in fuel efficiency, while maintaining exceptional productivity.

The new SK485 Mark 9 excavator features an upgrade to Kobelco's legendary intelligent hydraulics, and a new Economy power mode that delivers improved fuel efficiency – 15-percent better fuel efficiency for normal digging conditions as compared to previous models. The machine also features a Tier 4 Interim Hino engine equipped with cooled exhaust gas recirculation (CEGR) emission technology. A new ROPS/FOPS cab provides a larger, more comfortable work environment. A low engine cover and standard rear-view camera improve visibility and operator productivity.

"With the SK485, Kobelco continues its tradition as a technology leader," said Reece Norwood, Kobelco platform manager. "Long known for delivering the precise control and feel expert operators prefer, the Kobelco SK485 excavator can dig the trench, crane the pipe and finish with even better precision. Plus, the new CEGR solution will achieve lower operating costs, while also maintaining efficiency, performance, power and reliability."

The Kobelco SK485 features an operating weight of 111,774 lbs (50,700 kg), and a dig depth of 25 ft 7.5 in (7.81 m). The new model delivers 345 horsepower (257 kW).

Improved controllability and productivity
The upgraded Intelligent Total Control System™ (ITCS) incorporates the culmination of three generations of continuous improvement in hydraulic controls, based on extensive customer input and product testing.

"The Kobelco Mark 9 excavators set the industry standard in terms of controllability, especially in multifunction applications," Norwood said. "Operators will appreciate the impressive control and smoothness of the new SK485 Mark 9, and the added confidence will make them even more productive. The ease of operation allows even a novice excavator operator to be productive on the job."

Integrated swing priority, a Kobelco first, provides seamless and smooth transition of additional pump power to the swing function. Automatic hydraulic regeneration feeds the cylinder demanding oil first, with oil that is being pushed out of another cylinder. This requires much less energy than having to re-pump that oil again, and also allows the next action to happen with faster response. The independent travel feature, activated with a switch, dedicates a pump to travel motors for better movement while performing other functions, such as when handling pipe while moving to the trench.

CEGR engine technology
Kobelco selected CEGR technology for meeting Tier 4 Interim emissions regulations on the SK485 Mark 9 based on the excavator's high-production application, engine selection and the unique capabilities of Kobelco's hydraulic and electronic systems. The engine technology meets the EPA's Tier 4 Interim emissions standards, while delivering even better performance and fuel efficiency. Kobelco's system approach to Tier 4, including upgrades to the ITCS hydraulics, keeps the SK485 Mark 9 in a class by itself when compared to the fuel efficiency of other brands of excavators for Tier 4 Interim.

With the CEGR system, controlled amounts of exhaust gas are cooled, blended with fresh air and then returned to the cylinder, lowering combustion temperatures and significantly reducing nitrogen oxides (NOx). The levels of particulate matter are then reduced through the use of an after-treatment diesel particulate filter (DPF) system.

"While other excavators require operators to slow or stop during automatic DPF regeneration cycles, Kobelco's CEGR system is configured to allow for very brief periodic regeneration cycles that don't slow or interrupt the excavator's operation," Norwood said.

ROPS/FOPS cab
The larger, isolation-mounted cab on the SK485 Mark 9 excavator accommodates all operator sizes and features standard rollover (ROPS) and falling object (FOPS) protection. Repositioned controls, moveable front and door windows and more glass improve visibility from the sides of the cab.

A new control monitor provides key operating data – including a new function which graphs fuel consumption per hour – and a rear camera view to expand the operator's view to the back of the machine. An optional air-suspension seat with heated cushions provides additional operator comfort and productivity.

Three working modes, two attachment modes
To match work operations, the work mode system provides three modes – H Mode, for heavy-duty excavation and loading work, gives priority to the workload at high speed; S Mode, for standard digging and loading work, provides versatility; and E Mode, for economy, leverages more of the intelligent hydraulics features to deliver exceptional
fuel efficiency while maintaining high productivity for normal digging conditions – and two attachment modes – B Mode, breaker/hammer optimized (1-way hydraulic flow); and A Mode, for auxiliary attachment work such as demolition with a crusher/nibbler breaker or shear (2-way/2-pump flow).

Meeting a wide range of applications
The SK485 Mark 9 is one of the most productive machines in its size class. This machine is engineered for heavy applications, including road and bridge, sewer and underground utilities and mainline pipeline construction.

To meet customers' needs for a wide variety of applications, the Kobelco SK485 Mark 9 excavator is available with several factory-available configurations – including High & Wide, Demolition and Mass Excavation versions – allowing for larger buckets up to 5.5 yd3 (4.21 m3) for mining or other high-production excavation jobs. Heavy-duty frames, booms, arms and undercarriages are standard on all Mark 9 excavators.

The SK485 Mark 9 High & Wide version has a more stable stance, making it ideal for such applications as craning large pipe, scrap handling or forestry work.

Additional features on the new Kobelco SK485 Mark 9 excavator include swing flashers and step extensions. Plug-in capability for telematics is standard on all Mark 9 excavators. For even greater productivity and precision, all Kobelco Mark 9 excavators are compatible with grade control systems from leading suppliers to meet customer preference and applications.

A full selection of buckets, couplers and thumbs are offered to maximize the excavator's versatility.

Kobelco Construction Machinery America LLC is a joint venture between subsidiaries of CNH and Kobelco Construction Machinery.