Grading attachment cuts time and cost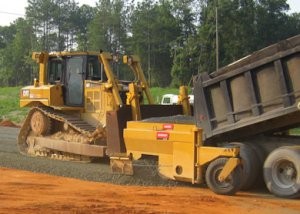 Prince Contracting was recently awarded its first project in Georgia with the Georgia Department of Transportation (GDOT): the Fall Line Freeway project. Construction began in July 2011. To reduce the time this road construction will take, Prince is using a Domor Rivinius R-600C grading attachment on the blade of its Caterpillar D-6T Tractor to spread road base material. In Domor's Case Study, the company reports that the R-600C has enabled Prince to achieve significant time and cost savings.

The contracting company used to average less than 2,000 linear feet of base using a traditional dump-spreading method. Using the Domor Rivinius R-600C Prince has been able to increase daily road spread to 3,400 tons of base material and 3,200 linear feet of graded and compacted base that passes inspection.

Traditionally, the study explains, contractors "dump spread" or dump directly from the truck onto the sub-grade with the truck moving slowing forward. This is the most common method used in road construction, but it's very inconsistent as far as the depth of base dumped along the finished sub-grade. Dump spreading comes with a host of challenges to get the base to exact grade and compaction.

With the Domor Rivinius R-600C base-spreader attachment, road base material can be quickly and accurately installed at depths from two to 22 inches, and widths of up to 16 feet in one pass. The R-600C quickly attaches to a dozer or loader and can be set up and operational on a jobsite in 20 minutes.
Company info