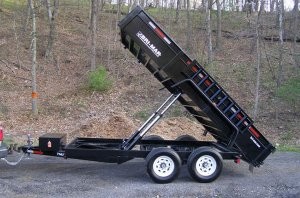 In response to end user and dealer demands for a high quality dump trailer that satisfies today's challenging economy, Bri-Mar Manufacturing, LLC has recently expanded their line-up of popular dump trailers to include the new LE models.
Positioned smartly between Bri-Mar's HD – arguably the finest dump trailer line in the business – and the company's entry level Rascal line, the new LE line brings landscaping, utility and demolition contractors a top quality trailer with a few less frills.
According to Sam Gayman, Bri-Mar's Sales and Marketing Manager, "The recent economy has been tough on many of the markets we serve. These people are now looking to get their businesses moving again and have asked us for an affordable, high-quality product to help them do just that. The LE line utilizes many of the same components and production & finishing processes that we've developed for our HD line. We've economized with some of the product features and some of those are now available as options on the LE. Bottom line: We are bringing our customers a very reliable product at a very reasonable price that caters to today's tighter budgets."
All models feature Bri-Mar's industry-leading Monarch pumps and hydraulic cylinders, ALKO Ultru-Lube axles and PPG powder-coat finishing system. Other standard features include 6" channel mainframes, 3" channel cross members, 10 gauge floors, diamond plate fenders, lockable battery boxes, full length tarp tie-down rods and 7-way RV style pigtails with sealed harnesses.
Models range from 7,000 to 14,000 GVWR, and from 6-foot x 10-foot to 7-foot x 14-foot.