Genie S-40 Trax and S-45 Trax Provide Greater Terrainability and Versatility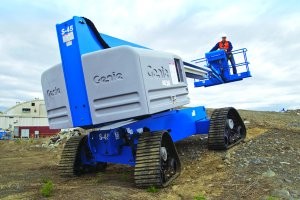 The Genie S-40 and S-45 telescopic booms are now available with our exclusive "four-point" Trax track drive system. Due to their unique track-style wheels, the new Genie S-40 Trax and S-45 Trax offer improved terrainability and reduced damage to sensitive ground surfaces giving them the ability to drive on almost any surface.

The S-40 Trax has a lift height of 40 ft (12.2 m), a vertical reach of 31 ft (9.7 m) and a gross weight of 14, 440 lbs (6564 kg). The S-45 Trax has a lift height of 46 ft (14.2 m), a vertical reach of 36 ft (11.2 m) and a gross weight of 17, 440 lbs (7927 kg). The new Genie S-40 Trax and S-45 Trax telescopic booms use an innovative, patented track design which allows for an independent triangular track at each corner of the unit in comparison to the traditional "skid steer" design that has a full length track on each side. With patented active oscillating axles, the tracks maintain contact with the ground on uneven and undulating surfaces to retain maximum power and torque.

"The new Trax models provide increased useability and comfort," said Frank Schneider, Senior Product Manager, Terex Aerial Work Platforms (AWP). "The four-point track system allows the tracks to drive softer over sensitive surfaces while also reducing the platform movement. This is a superior product for specific geographies such as the Southern United States and Northern Europe where soil and site conditions require specialized pieces of equipment."

Because the tracks are encased in rubber, they do less damage to sensitive ground surfaces such as turf while still remaining rigid. Reduced ground pressure provides a high level of "floatation" in terrains such as sand, mud and compact snow.

The Genie Trax booms offer traditional front wheel steering with a 30 degree steer angle. By driving and steering like a wheeled machine, each triangular shaped tracks can swivel 22 degrees up and down to easily follow undulating terrain and sharp changes in slope such as the break-over angle found on many transport trailers.

With a maximum drive speed of 2.5 mph, units are able to get around jobsites quickly.

The narrow width of the machine allows booms to be trailered without the need for over-width permits. The narrow chassis and front wheel steering allow the Trax booms to fit into narrow locations and tight jobsites with ease.

The Trax booms share a common chassis with the standard wheeled Genie S-40 and S-45 machines resulting in service parts commonality. Limited new service training and service parts are required.

The Genie S-40/45 Trax will be available globally in the first quarter of 2012.