Fecon introduces several performance advancements in its new BH300 Bull Hog mulching attachment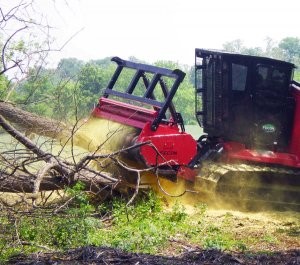 Situated between the BH250 and BH350, the new BH300 mulching attachment for 200- to 600-hp tractors comes standard with the patented HDT Step Rotor system, two cutting diameters and staggered tool pattern, for optimal cutting efficiency. The BH300 incorporates a larger rotor diameter (compared to the BH250) while maintaining the same power range as the BH250 and BH350. This is made possible through a variety of belt drives and two rotor bearing options.

Hydraulically powered with 80-210 gpm the BH300 has both fixed and variable displacement motor options to be configured to contractor requirements. A PTO version of the BH300 is available for tractors from 200-450hp. Dual over running clutches in the drive line are provided for drive line protection and a patented synchronized gear box is provided for improved range of motion.

The newly designed BH300 severe-duty body features an abrasion resistant AR400 bulkhead and weighs approximately 7,710 Lbs (depending on options). Standard features include a hydraulic trap door and a double-curtain of heavy debris chain at the rear. Aggressive counter cutting rakes staged in the bulkhead contribute to efficient material reduction. An optional hydraulic tilting push bar is also available.

Fecon's HDT Step Rotor for the BH300 can be equipped with four tool options including three carbide options, a knife tool or a combination of tools. This enables contractors to quickly configure their mulcher to the various conditions of the job at hand. Standard dual-carbide tools provide the greatest all-around reliability and performance for most contractors, narrow single carbides deliver a faster cut with carbide durability and a coarser finish and stone tools provide the greatest durability and wear characteristics against rock and abrasion. A knife tool in the HDT system provides the greatest production capability for jobs with low risk of rock or highly abrasive conditions.


Fecon, Inc.