Innovative, long-boom, aerial work platform solution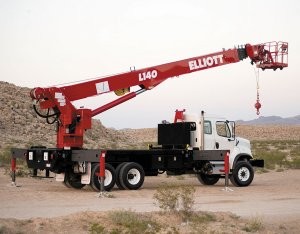 Elliott Equipment Company's new L140 HiReach is an innovative long-boom aerial work platform solution with a 140-foot working height, 14,000-pound lift capacity with winch two-parted, and a self-leveling and hydraulically rotating platform.

The new L140 is designed for access applications that demand heavy lifting and platform stability at working heights up to 140 feet.

The 600-pound capacity 30-inch x 54-inch steel work platform features a rechargeable battery and hydraulic pump system that provides platform leveling and 90 degree rotation. The entire rotation and leveling system is stored in protected boxes on the boom tip, eliminating the need for cables and hosing alongside the boom. By eliminating external cable carriers, the L140's design eliminates hundreds of moving parts and reduces the chance for snags on tree branches or other obstacles during operation. It also cuts down on weight by eliminating hundreds of feet of hydraulic hoses and electrical wires.

In fact, the L140 weights 12,500 pounds less than the Elliott H135. This allows it to mount on a conventional tandem axle chassis, saving thousands of dollars in chassis and fuel costs.

Other new features on the L140R include the new and acclaimed Hirschmann iVisor Mentor LMI and a boom-mounted winch capable of a 7,100-pound bare drum pull, 217 fpm burst of speed, and ½-inch wire rope. The boom tip contains two sheaves allowing a two-part line for lifting up to 14,000 pounds at a 6-foot load radius. Full feathering boom and winch controls are included in the unit's Omnex wireless remote package for operation from the platform or from the ground.

Elliott Equipment Company continually partners with large and small businesses to develop solutions that meet even the most unique business needs. The L140R is another example of how Elliott's engineering team continues to change the way aerial work platforms function on the jobsite.