Cummins extends mining power capability to 4,000 hp with new QSK95 engine
95-Liter 16-Cylinder Engine Ready To Power Ultra-Class Mine Haul Trucks And Meet Tier 4 Final Low-Emissions Standards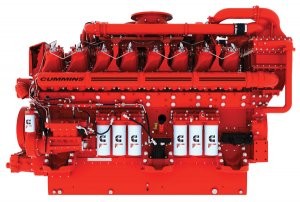 Cummins' new QSK95 engine will provide a 4000-hp (2983 kW) capability for ultra-class mine haul trucks, representing the highest-ever power output introduced by the company for severe duty-cycle operation. The 95-liter displacement QSK95 is purpose-designed to provide enhanced strength for 360-ton and 400-ton (327 and 363 metric ton) payload-class trucks, with the capability to increase truck speeds for climbing steep-gradient haul roads and boost hauling productivity with reduced operating cycle times.

The QSK95 will be available as a global mining engine platform capable of operating at mine sites anywhere in the world and meeting all emissions standards, including Tier 4 Final in North America by using Cummins proven Selective Catalytic Reduction (SCR) aftertreatment.

The 16-cylinder QSK95 reaches the mining power output previously available only from 20-cylinder engines. High power density is achieved with a hardened power cylinder featuring the strongest single-piece forged- steel piston available in the industry. Deep structural strength is provided by an all-new ductile iron skirted block. This increased strength contributes to higher engine uptime availability, extended life-to-overhaul and more cost-effective rebuilds.

"The QSK95 is designed to meet the highest expectations in the mining industry for uptime availability, reliability and durability that will exceed all other previous engines intended for ultra-class haul trucks," said Jason Rawlings, Executive Director - Cummins Mining Business.

"This combination of deep inherent strength and proven systems means that the QSK95 will be ready to provide outstanding performance on the mine site from day one. The QSK95 will fully complement the success of the QSK60 and QSK78 engines in ultra-class haul truck applications. These engines offer the widest and most flexible power choice in the industry," added Rawlings.

The 4000-hp (2983 kW) output of the QSK95 engine is well within its design capabilities, with potential power increases available in the future to provide the possibility for the next generation of ultra-class haul trucks to move beyond 400-ton (363 metric ton) payload capacity.

The stronger engine design of the QSK95 means more reliability in- service and less to rebuild at engine overhaul, considerably reducing total life cycle costs. The QSK95 will provide an exceptionally long life- to-overhaul, capable of achieving 1.7 million gallons and above of fuel consumed before rebuild, with the added advantage of no midlife intervention required.

Cummins next-generation Modular Common-Rail System (MCRS) enables the QSK95 to achieve high fuel-efficiency, even when operating at maximum power output. With up to 2200-bar high-pressure fuel injection, MCRS reduces noise, offers smooth idle stability and eliminates visible smoke across the entire operating range.

Cummins new NanoNet(TM) fuel filtration gives superior fuel cleanliness and enhances the durability of the MCRS system - an important advantage for mining engines required to operate anywhere in the world with varying fuel quality.

A quad-turbocharging system brings the simplicity of a single-stage air handling system already proven on the QSK60 engine. The four compact turbochargers, one arranged for each bank of four cylinders, provide outstanding step-load acceptance and transient response. This enables the QSK95 to deliver more rapid power across the entire rpm range to improve haul truck speed at full payload capacity.

The QSK95 engine is configured to provide faster and easier servicing procedures, with simple access to all cooling, oil and fuel system maintenance points on the engine. Service intervals are a minimum of 500 hours, with the option of much-extended oil change intervals available using the ELIMINATOR(TM) oil purification system, mounted on the engine.

The goal of a leak-free engine is achieved by premium "press-in-place" seals on all critical joints, such as flywheel housing, gear housing and oil pan-to-cylinder block. A special perimeter seal to the cylinder head guarantees that airborne debris cannot penetrate this critical sealing interface.

Advanced electronics enable the QSK95 to be custom-calibrated for specific duty cycles, with the flexibility for performance to be optimized among fuel consumption, transient response and emissions reduction to suit different haul truck applications.

Reducing Emissions And Improving Fuel-Efficiency
The QSK95 utilizes an SCR aftertreatment system to meet Tier 4 Final low-emissions standards with a highly flexible installation package intended to replace the exhaust muffler. Depending on the application, Cummins SCR system is capable of achieving incremental fuel savings of 5 percent to 10 percent. These fuel savings will reduce the cost of operation by more than the cost of Diesel Exhaust Fluid (DEF) required for the functioning of the SCR system.

A major advantage of using Cummins proven SCR aftertreatment is that the QSK95 avoids the need for using an Exhaust Gas Recirculation (EGR) system on the engine to reduce Oxides of Nitrogen (NOx) emissions. The SCR system provides a simpler solution than the inherent complexity of applying EGR to high-output engines and means that no compromise is made to serviceability.

As a further benefit, using SCR means that no additional heat rejection is generated by the engine, avoiding both an installation cost and space impact. Cummins SCR system provides the rugged reliability to withstand the most extreme vibration and shock loads associated with haul truck operation.