Choosing the right suspension for your landscape truck fleet
How to save money and add support by making the right choice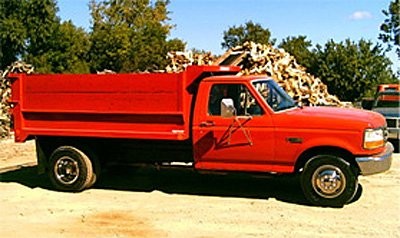 (reprinted from www.sdtrucksprings.com.)
As a landscaper, it is important to manage efficient and effective operations. One of the largest aspects of your company is your fleet of vehicles, which allow you to carry raw tools to and from your office and project sites. Your fleet depends on the focus of your landscaping business, but the difference between one large truck and several smaller ones makes for big differences when dealing with costs, maintenance, and performance issues. Choosing a small pick-up truck along with a trailer is cheaper than purchasing a larger truck with a flat bed. Also, choosing smaller vehicles for your fleet allows versatility and ease.
Lightweight, medium range, and heavy duty trucks are the three weight classes typically used in the landscaping industry. The light duty half ton trucks, including the Ford 150, Dodge 1500, and Chevy Silverado, are mostly used for landscape maintenance projects. They can be used without a permit and their configuration allows easy access to items for hauling mulch and bins for collecting debris. However, these typically have the most need for additional support as we have seen many broken F150 leaf springs.
Medium weight trucks such as the Chevrolet C4500 are used as multi-purpose vehicles that can transport supplies for installing fences and composting.
The heavy weight class of landscape trucks is rated at a minimum capacity of five tons. It is capable of hauling slabs of concrete for installation of patios and can also pull a large trailer. Heavy duty trucks include the Ford F650 and F750 which normally pair well with a Ford Timbren Kit for additional support.
In all three weight classes, overloading your truck results in the weakening of its load support over time and makes maneuvering difficult. Additional capacity places stress on nearly every part of the vehicle, including tires, brakes, suspension, and the cooling system. To find out your truck's GVWR, read its load limits on the truck's data plate or manufacturer's manual. If you need to haul additional weight, it will be beneficial to purchase accessories that will aid your truck's suspension and increase hauling capacity.
Increased truck suspension means the difference between replacing an entire suspension system, which can amount to thousands of dollars. For a low cost, a suspension accessory such as air bags, leaf springs, and Timbren kits alters your truck's load capacity by supplementing the weight with the existing suspension system. Each of these systems helps maintain brake effectiveness, reduce tire wear, absorb road shocks, and automatically adjusts to uneven loads or road conditions.
Between leaf springs, airbags, and Timbren kits, which suspension is the right choice for your truck?
Hellwig helper springs will increase the load capacity of your vehicle and help level your pickup or SUV. Truck helper springs range in capacity from 550 lbs. to 3,500 lbs. They are available in constant rate as well as progressive models that will adjust to the load in your vehicle and provides a smooth and level ride. If increasing the ride of quality of your landscaping truck is a top concern, suspension airbags are for your landscaping truck. They level off center loads, increase stability & adjust control, and increase your vehicle's load capacity up to 5,000 lbs.
Firestone, Air Lift, and Hellwig make airbags customized for all major truck manufacturers. A Timbren suspension system for your F150, F250, or F350 will provide progressive load support with a low failure rate. This means that Timbren load cushions are designed to engage when towing or hauling, but will leave your ride unaffected when the vehicle is empty. Timbren kits lengthen the life of expensive Ford leaf springs or coil springs that are the backbone of your current suspension.
Adding these accessories is a wise choice for a landscaper who wants to protect their cargo load for a long period of time and keep costs low. Without disruptions to your fleet, you'll be able to haul large amounts of materials to make your next project perfect.
SD Truck Springs (www.sdtrucksprings.com) specializes in truck suspension parts such as replacement leaf springs for Chevy, Dodge, Ford, Jeep and Toyota. If an entire suspension needs replacing, SD Truck Springs also carries shackles, hangers, bushings, u-bolts and anything else needed to complete a new leaf spring job. If a vehicle needs additional load support there are many helper spring options available.
Established in 1971, S & D Spring and Wheel Alignment Co., Inc. is a family owned and operated business which has built a national reputation in providing truck suspension repair, suspension replacement, spring customization and re-arching. Parts and services are available to the trucking industry across the United States and Canada.
Related Articles
Searching for the best-performing excavator? Your search ends here. We tested the Volvo EC350E and EC380E against a leading competitor in three different tests: trenching, truck loading and lifting capacity at reach. The results show a 20% difference in cost-per-ton, a 15% difference in tons-per-hour and a 12% difference in both operating costs and lifting capacity. See the results and put an end to your search for the best excavator.