Hydrodemolition robots for efficient concrete removal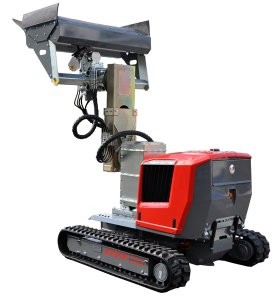 Hydrodemolition equipment specialist Aquajet Systems has introduced two additional models to complement its range of the recently launched latest generation of Aqua Cutter 710 V Classic and Evolution series of robots; offering further options and improved automatic and manual features for hydrodemolition contractors.

Two new models from Hydrodemolition specialist Aquajet Systems AB complete the range of the recently introduced latest generation Aqua Cutter Series of robots with the 710 A and 710 H to offer further options and improved automatic and manual features to suit the contractors demands for efficient concrete removal.

The new models are designed for working on bridges, tunnels, roads, walls, parking garages or overhead roofs. Working with a typically 1000 bar pressure and 250 l/min, the robot handles removal depths down to approximately 1000 mm of concrete if required.

The newly introduced 710 A robot features an articulated arm that can be positioned through 360º and has two telescopic joints to reach a maximum height of up to 3 m.

It is suitable for horizontal, vertical and overhead operations in applications such as, for example, multi-storey parking garage rehabilitation; it must always drive along the woking surfacing.

The new 710 H has been designed for horizontal deck (floor) operations but can be upgraded to the 710 A or 710 V if required. It is intended for contractors who already have one or more of the more versatile 710 V robots or, for new contractors just entering the hydrodemolition sector and principally seeking horizontal applications.

It can optionally offer a 4 m operational width.

The 710 V series of robots, introduced earlier this year, is considered the most versatile robot from Aquajet and is able to reach up to heights of 7 m.

The unit is also suitable for horizontal applications driving along the surface or it can 'nose up' with the cutting head moving vertically on the mast; making it ideal for pillars and walls..

All three models are delivered with diesel engines and can be fitted with electric hybrid drive for areas which are not suitable for diesel engines.

The range is also available as Evolution models incorporating fully computerised facilities or Classic models not requiring these features and offering manual operation.

Built to operate in tough conditions, all the systems have been designed with the operator in mind and are easy to operate.

A new improved rubber lined splashguard on the power head ensures improved noise reduction. Easy service access is also assured with 'gull wing' hoods and 'fold down' hydraulics for cleaning and maintenance.