New snow plow and spreader engineered to turn an ATV into a winter workhorse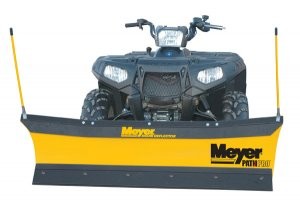 Meyer Products has introduced two new products designed to team with any ATV vehicle on the market: the Meyer Path Pro plow and the BL-125 tailgate spreader. According to Meyer, the new Path Pro is perfect for clearing snow from sidewalks or other tight areas not suitable for a plow truck, and when paired with the Meyer Base Line-125 speader, landscape pros can turn an ATV into the ideal snow and ice management vehicle.
Path Pro is a commercial-grade, full-trip plow available in 50" or 60" widths. It features highway-inspired flared wings that scoop and funnel snow faster and farther, and a 65-degree attack angle scrapes the surface more cleanly than standard straight blades.
"Our research is telling us that grounds maintenance professionals who need to clear a lot of walkways could really use high-quality snow removal equipment for ATVs, and that is our aim with the Meyer Path Pro," said Andy Outcalt, president of Meyer Products.
Meyer says only the Path Pro comes with automatic self angling, which senses which side of the plow is gathering the most snow, then automatically angles the blade in that direction. Operators also have the option of locking the plow in one of five positions. The up-down movement of the Path Pro is provided manually or remotely. Sold separately, a manual lift kit allows the operator easy access to a lift arm that lifts or drops the moldboard. Or an electric winch, recommended by an ATV dealer, can also lift/drop the moldboard.
Path Pro is backed by a five-year full warranty with an online registration. It's made of 14-gauge, high-tensile steel and features a heavy-duty push frame, trip springs and grease zerks. The universal mount is forged of dual-walled tubular steel, and is sealed in a rust resistant, high-strength coating. Path Pro moldboards are manufactured with pre-drilled holes, making it easy to add a snow deflector, eliminating time when adding this important safety feature.
The BL-125 tailgate spreader, backed by a one-year warranty, is an economical, full functioning spreader to mount on the back of an ATV. Its low profile allows salt, calcium chloride, fertilizer and seed to disperse closer to the ground providing better control of material output. At the heart of the BL-125 is an elevated heavy-duty electric motor built to withstand the harshest winter conditions.
A fitted rubber cover seals the motor, protecting it and the drive system from the elements ensuring reliable performance. A poly weather cap keeps precipitation and moisture out for clump-free spreading. Weighing only 30 pounds, the BL-125 spreader arrives already assembled, making installation quick and easy.