Global Crane Sales Expands Crawler Line With the Launch of the QUY350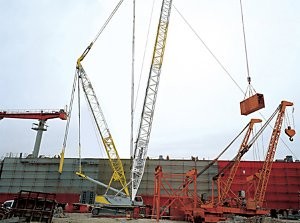 In partnership with Zoomlion, Global Crane Sales has introduced the QUY350 Crawler Crane. Joining Global's full line of Crawler Cranes, the QUY350 is the newest model available to the North American market. The 385-U.S. ton (350-metric ton) capacity crane is ideally suited for a variety of uses including general construction and windmill erection, as well as oil refinery and power plant work. With robust construction, quality components and ANSI certification, the QUY350 upholds the strictest engineering and design standards.

The QUY350 comes fully loaded; all 11 boom configurations and 5 hookblocks are standard. Each configuration features an optimized boom design and is constructed of European high-strength steel to provide greater lifting at lighter boom weights. The main boom has an impressive 285-foot lift height. To allow longer reach, the luffing jib boom may be added to the main boom (light-duty configuration) to achieve 340-foot lift height. For maximum lift and capacity, the QUY350, when combined with its superlift counterweights and luffing jib, can reach greater than 540-feet and lift more than 16,000-pounds at maximum boom length.

The QUY350 uses only high-quality hydraulic and electric components including Linde pumps, PAT/Hirschmann LMI system, Pfeifer wire rope, and Rexroth drive motors. With a 400 horsepower Cummins QSM11 electronic injection diesel engine, the crane ensures powerful and reliable operation.

Precise micromotion design delivers smooth operation, whether lifting, loading or changing direction. The electronically-controlled winch motors offer variable speed control to maximize efficiency for light and heavy loads. The lifting speed of the primary winch is 442.9-feet per minute, with secondary winch is capable of 393.7-feet per minute. The QUY350's camera surveillance system provides full operator visibility of the boom and load for further enhanced hoist control and precise lifting.

The operator cab is designed with a heavy emphasis on user comfort and safety. The operator controls and dashboard layout have been designed for efficiency and functionality, with a fully adjustable seat and air conditioning included standard. The cab is capable of tilting upward by 20-degrees to further increase operator visibility and reduce fatigue.

In addition to a camera surveillance system that monitors the winches and rear of the crane, several other safety features are included standard on the QUY350, in particular, the central digital display unit. With the press of a button, the operator can conveniently toggle between different monitoring feeds such as engine speed, oil pressure, the hydraulic unit's working pressure and total operation hours. In addition, the QUY350 features a wind speed indicator that conveniently alerts workers of potentially dangerous wind speeds. A dynamic center-of-gravity detection system and boom overturn protection devices are other safeguards incorporated standard.

The design components of the QUY350 make for easy assembly and disassembly, with no additional equipment needed. The outrigger jack-up and crawler self-mounting and dismounting mechanism can independently mount and dismount the crawler assembly, improving operational efficiency, reducing manual work intensity, and ultimately eliminating the risks involved in manual control.

Eleven boom configurations are offered, standard. The standard heavy-duty configuration offers a main boom length that is variable between 59- to 275.6-feet, extending between 98.4- to 275.6-feet in superlift configuration. Maximum lifting capacity is 385-U.S. tons for Standard operation and 330-U.S. tons in superlift.

Boom working parameter for the light-duty configuration is variable between 78.7- to 334.6-feet with a maximum lifting capacity of 176-U.S. tons. Superlift configuration offers a boom length of 137.8- to 393.7-feet and maximum lifting capacity of 198-U.S. tons.

The fifth configuration, standard luffing jib, has a 154-U.S. ton maximum lifting capacity and offers two working options. The first option uses a main boom length variable between 98.4- to 196.9-feet with a jib of 78.7- to 137.8-feet, while the second option's main boom is between 98.4- to 177.2-feet with a jib of 78.7- to 216.5-feet. The boom in the superlift configuration is between 98.4- to 275.6-feet, with the jib variable between 78.7- to 275.6-feet, and maximum lifting capacity is 176-U.S. tons.

Standard heavy-duty with fixed jib, the seventh configuration, is capable of lifting up to 88-U.S. tons and uses a main boom length between 177.2- and 275.6-feet with a jib of 39.4-feet. The working parameters remain the same for superlift operation.

The standard light-duty with fixed jib is the ninth configuration offered. It features a main boom length of 177.2- to 314.7-feet and a 40-feet jib, while the superlift configuration uses a main boom length of 177.2- to 334.6-feet. The standard and superlift operations each have a maximum lifting capacity of 88-U.S. tons.

The final configuration provides further versatility by offering an operating mode for wind power setup. This system's main boom length is 177.2- to 275.6-feet, with a short fixed jib on the boom head of 23-feet. The wind power set-up can lift up to 93-U.S. tons.

All Zoomlion cranes undergo strict load testing including rated, dynamic, static and traveling, and are ANSI-certified.


More from Cranes & Lift
The all-new CASE TR340B compact track loader — operating at 90 horsepower with a 3,400-pound rated operating capacity — is the most powerful radial-lift CTL in the CASE lineup. Its all-new 8-inch LCD display improves on industry-leading CASE visibility with a new backup camera that is viewable in both forward and reverse operation. The display also showcases critical operating information and "trip" details. All-new electro-hydraulic controls, managed through the display, make it easier than ever for operators to dial CASE CTLs into specific application demands. All new cab controls and joysticks make the new TR340B easy to own and operate.
Industries such as construction, mining, energy, utilities and forestry, face many challenges when it comes to tracking assets and employees. Equipment often has to be transferred between locations, or monitored while it is dormant during off seasons. Lone workers may have to travel long distances or visit multiple sites during the course of their activities. And, all of this is further complicated today with shifting supply chains and economic realities putting further strain on the bottom line.