New Curb Fox slipform paver delivers jobsite versatility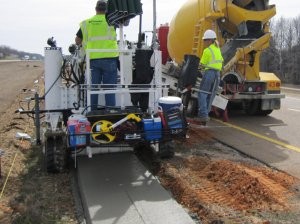 The new 5000-T concrete slipform paver from Curb Fox Equipment offers complete jobsite versatility by utilizing three hydrostatic tracks, instead of wheels. Crawlers allow the 5000-T to operate in virtually any soil conditions – soft or muddy. And the 5000-T can slipform larger sections as well.

Specifications for the CF5000-T include paving sidewalk sections up to 8 feet (244 cm) wide, and barrier sections up to 30 inches (75 cm) high. It will also handle large curb & gutter sections up to 39 inches (1 m) wide in the offset position.

The new tracks on the 5000-T are 58.7 inches (149 cm) long by 9 inches (23 cm) wide by 15 inches (37.5 cm) high. Equipped with the tracks, the CF5000-T weighs 7500 pounds (3408 kg). The machine has excellent low speed travel control, and a top travel speed of 125 fpm (38 mpm).

Company info