Durashell 370 fiberglass composite utility body
New service body is an alternative to Vans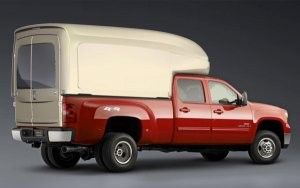 Fleetwest Transferable Truck Bodies has introduced the new Durashell 370 service body to its extensive lineup of Durashell fiberglass composite utility bodies. Ideal for landscapers, contractors and fleet managers looking for a way to save costs on their van or SUV replacement, the Durashell 370 is an exclusive product that provides 370 cubic feet of internal storage space and can be transferred, fully loaded, from one pickup truck to another in minutes.
According to Fleetwest, the Durashell 370 is truly unique and offers the following features:
• High Quality, One-piece Fiberglass Composite Construction
• Universal Fit: GM, Ford, Dodge, Toyota & Nissan
• 10-year Manufacturer's Warranty
• Customizable Interior/Side Access
• Multi-Purpose Applications
• Only 720 lbs.
• Over 6 feet of Internal Height
• Over 12.5 feet of Internal Length
• 57 inch Extra Wide Rear Entry Door
• 2 Interior Dome Lights & 3rd Brake Light
Fleetwest says what makes the Durashell 370 unique, is that there are no holes drilled anywhere in the bed of the truck as it uses 4 corner tie down clamps to lock the body in place by clamping under the bed rail. The exterior has a white gel coat finish and hidden stainless steel hinges and door hardware. The interior has a smooth rolled-on gel coat finish with laminated mounting frames throughout, providing easy customization.
Considerable savings can be realized with the Durashell 370 because there is no need to repeatedly spend time and money upfitting a new service vehicle when it is time to add or replace a van or truck. The Durashell's universal-fit capability eliminates the costly need to weld or bolt-on a new service body to the new vehicle. When a van or truck is modified to go into service, the future resale value of the vehicle is significantly reduced as well.
Fleetwest says downtime is a big drain on the profitability of service companies. Lost time due to a service vehicle requiring maintenance, repairs or unexpected replacement can interrupt hours and sometimes days of active service calls. When technicians are forced to work out of a borrowed service vehicle it adds to the inefficiency and frustration. Valuable time is lost transferring tools and equipment to the borrowed vehicle. At the job site, techs spend extra time trying to locate their tools and equipment needed to complete the job quickly and effectively.
Fleetwest Transferable Truck Bodies National Sales Manager, Tom Endicott, states. "In the past, service companies only had a couple of options available to them with regard to upfitting a service vehicle to best meet their service vehicle requirements: a cargo van or a cab and chassis with a permanent bolt on service body. Neither of those options affords the versatility, cost savings or long term advantages that the Durashell 370 offers. Our customers love the flexibility of moving their Durashell service body on and off the pickup truck, fully loaded in minutes when they need to, regardless of the reason for doing so. The truck over truck purchase cycle savings can equate up to 37% versus the traditional service body cycle of purchasing a new service body each time a truck or van is replaced. That is something our customers get real excited about in a tough economic climate."
The Durashell 370 affords high quality and provides increased security for tools and equipment through double-walled doors and a fully enclosed service body. Driver comfort and safety will increase the morale of service technicians as well.
With fuel costs soaring and many service companies looking for ways to trim their operating costs, Fleetwest says the Durashell 370 can positively impact a company's bottom line as its' light weight durable construction allows it to be installed on a ½ ton truck, it can deliver better fuel economy than a full-size van.
Related Articles
Searching for the best-performing excavator? Your search ends here. We tested the Volvo EC350E and EC380E against a leading competitor in three different tests: trenching, truck loading and lifting capacity at reach. The results show a 20% difference in cost-per-ton, a 15% difference in tons-per-hour and a 12% difference in both operating costs and lifting capacity. See the results and put an end to your search for the best excavator.