Rugged, reliable offshore air compressors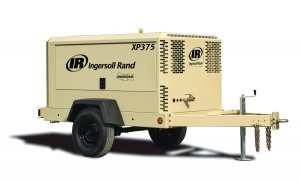 Doosan Portable Power continues its tradition of rugged reliability with the introduction of a new line of air compressors for offshore applications. The lineup consists of three models — the HP375, XP375 and HP935.

All models include a standard galvanized offshore-rated crash frame, corrosion resistant components and reliable mechanical diesel engines. Centralized fluid drain ports and side-by-side coolers provide unparalleled serviceability for the compressors.

The cool-box design of Doosan Portable Power air compressors improves performance when operating in high ambient conditions. The design enables air to enter the compressor and flow over internal components, keeping internal temperatures low and prolonging component life. Eliminating long cool-down periods, this feature extends the service life of the machine as well as allowing for maximum productivity.

The HP/XP375 series of air compressors have been built with the offshore market in mind and feature full stainless steel lockable enclosures. These rugged, multipurpose machines are powered with a mechanical Cummins 3.9 liter engine. These two compressors also have an option to mount on vibration isolators replacing the standard running gear.

The HP375 produces 150 psi of air pressure, and the XP375 produces 125 psi of air pressure. Both models produce 375 cfm of air flow.

The HP935 produces 150 psi of air pressure and 935 cfm of air flow. A rugged 10.8 liter mechanical Cummins M11 engine provides constant and reliable power for this model.
Numerous factory installed options allow for customizing the air compressors to specific jobsite needs. These include keyed ignition, a tachometer and an air filter maintenance indicator warning light on the front panel. Dual pressure regulation is also offered as a factory installed option. Single or double hose reels with or without hose or OSHA valves can be added to the compressor.
Company info
Related products