Install a drainage system without gravel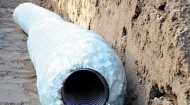 The lightweight EZflow gravelless drainage systems eliminate problems inherent with gravel drainage systems. These flexible pipe systems composed of polystyrene aggregate enclosed in a woven geotextile mesh are ideal for trench, curtain, landscape, foundation, retaining wall, and interceptor drains. The bundles come pre-assembled in 10-foot sections weighing only eight pounds and are available in 7, 10 and 15-inch diameters.

These systems can be installed by a single worker without heavy machinery. The modular design is versatile enough to meet any design parameter and easily contours along sloped sites and around trees or landscaping.