GOMACO Introduces the Next Generation of Machine Control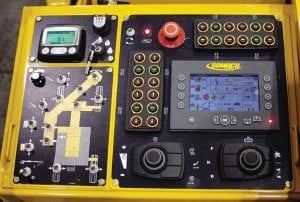 GOMACO Corporation has revolutionized the machine controls world with the introduction of G+, GOMACO's exclusive and proprietary control system. G+ is the first paver control software to be designed and engineered in-house by GOMACO's paving experts who know and understand the demanding requirements of concrete slipform paving.

The design of the G+ system incorporates everything learned and perfected in the GOMACO G21 and G22 controllers and offers even more... more versatility, more user-friendly, more diagnostics and more languages. G+ has been designed for the world marketplace and has the ability to operate in multiple languages. The controller features a display with deviation meters on the run screen. Design simplicity includes a high definition, multi-colored bar graph meters to indicate machine deviation, and assist the operator in fine tuning both grade and steer performance. Troubleshooting is fast and efficient with advance system diagnostics showing a full, detailed explanation of the fault and its location, along with emergency stop location identification when one is triggered at any location on the machine.

Machine set up is easier than ever before with single-person, push-button calibration for steering and grade. Then, while paving, the G+ includes the proprietary smooth paving software which detects and eliminates any hits to the stringline and bumps from stringline knots or the rod. The new G+ speed dial turns to adjust in one percent increments for smooth, precision paving speed control.

G+ is a totally CAN (Controller Area Network) connected system. It's also a modular system allowing components to be interchanged as needed between the controller on one or several different GOMACO machines. G+ is a faster, more robust system featuring superior hardware built specifically for GOMACO and the challenging conditions GOMACO equipment has to work in.

Company info
Related products