LOGIX Platinum Series TM is Now Greenguard TM Certified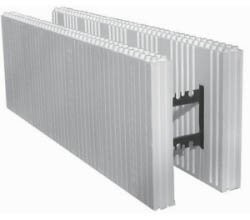 LOGIX Insulated Concrete Forms Ltd. is pleased to announce that LOGIX Platinum Series is the only ICF in the world to be Greenguard Indoor Air Quality Certified and Greenguard Children & Schools Certified.
The Greenguard Environment Institute is an accredited agency that certifies products and materials for low chemical emissions and provides a resource for choosing healthier products and materials for indoor environments (for a list of certified products visit www.greenguard.org).
Building design professionals know that Greenguard certified products such as LOGIX Platinum Series meet stringent emissions test requirements established by industry standards and health agencies.
Greenguard Certification is widely recognized by green building programs and accepted by major energy building codes worldwide.
With its Greenguard Certification, LOGIX Platinum Series can be used to gain additional points under LEED For Schools v3 and can help achieve points in a variety of green building programs. A comprehensive list is posted on www.greenguard.org.
LOGIX Platinum Series is made with NeoporTM by BASF and provides more R-value without increasing wall thickness. LOGIX Platinum Series was launched in early 2010 and fast became the ICF of choice for home and building owners looking for additional comfort and energy efficiency. And now building and home owners have another reason to love LOGIX Platinum Series – Greenguard Certification for healthier indoor air quality.
LOGIX is the leading Insulated Concrete Form system in North America. With a superior R-value of up to R27 built into its DNA, LOGIX helps you create an airtight building envelope today for the quality of thermal performance that will be expected tomorrow.
Only LOGIX offers choice of panel thickness, core thickness, foam type and web type. LOGIX is also the easiest ICF system to install, delivering more profit and less pressure to the construction team.
LOGIX is the Smarter, Faster and Stronger Technology.