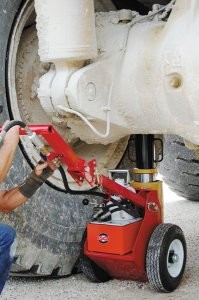 ESCO Corp has added high tonnage/high lift jacks to its complete line of heavy duty hydraulic lifting equipment.
Five new models are available with lifting capacities of 100 to 250 tons. All models are air/hydraulic powered and are balanced for easy moving on 13-inch pneumatic tires.
Lift extension saddles are stored in the base of the jacks for easy adjustments to various lifting heights of 5, 9 and 12 inches. Stacking aluminum safety locking rings are an option, as is air-powered wheel drive for ease of moving. All models are built with heavy-duty lifting holes. Each jack has a maximum width of 23 inches and will fit into tight clearance on construction sites. Lifting stroke on the five models range from 14.5 to 22.75 inches.