"Mini" Diamond Drill with Keyless Chuck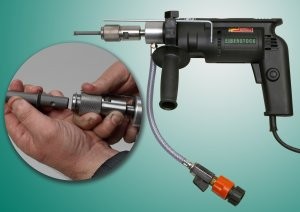 CS Unitec's END 712 P is designed with a "click and go" keyless chuck system allowing bits to be changed quickly and easily.
Used for drilling dowel, anchor and thru holes in tile, natural stone and concrete, this "Mini" diamond drill has a variable speed of 0-8000 RPM for easy starting and fast drilling.
It drills without shock or hammering and eliminates cracks and blow-out. It drills precise holes, even in hard ceramic "gres" tiles and granite. The END 712 P is ideal for gravestones, countertops, plumbing and other masonry applications.
The special water-cooled diamond bits drill 5/32" to 3/4" diameter holes. They have a long life of 50 to 100 holes for most applications. The END 712 P has a built-in water swivel with hose connection and valve. A depth gauge allows drilling blind holes for anchors, etc. The motor is 6.3 amps and has a built-in GFCI to protect the operator against electric shock. Optional centering aids allow precise drilling and include a connection for a vacuum cleaner.
This lightweight (5 lbs.) "Mini" Diamond drill comes with a keyless chuck, carrying case, and depth gauge. The END 712 PC kit includes the standard equipment plus a centering aid, 1/4", 5/16" and 3/8"diamond bits, a 3' slurry hose and a bit sharpening block.
CS Unitec also offers an optional water recycling vacuum, a wet/dry vacuum, and a portable water tank as accessories for use with the END 712 P.
Complete information on CS Unitec's END 712 Mini Diamond Drill and other CS Unitec concrete and masonry tools can be found on the company's website at www.csunitec.com