Easy to maneuver, towable mini-excavator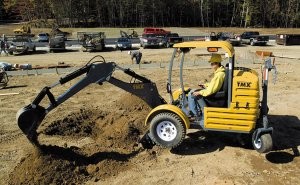 Featuring a quick-on and quick-off hitch system, the TMX towable mini-excavator can be hooked behind a standard 1/2-ton pick-up, van or light-duty tow vehicle, saving fuel and hassle. No trailer is needed, and no CDL license is required, making it the ideal option for do-it-yourselfers and small contractors. Lockout drive hubs enable towing at highway speeds of 65 mph.
Unlike conventional mini-excavators, TMX units eliminate tracks by utilizing zero-turn technology common on lawn mowers. The zero-turn rotation enables convenient access to tight locations and allows work on well-established lawns or greens by virtually eliminating the potential for turf damage. Weighing only 2,941 pounds (1.5 ton class), the TMX features an 8-foot digging depth.