Zero-turn, wheeled, towable mini-excavators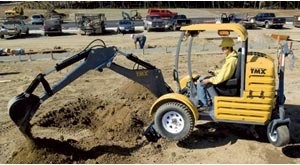 Company info
The new line of TMX Towable Mini-Excavators is designed to provide exceptional power in a towable, easy-to-maneuver package. The TMX units offer a strong excavating solution for a wide variety of markets, including rental, municipal and landscape.

Featuring a quick-on and quick-off hitch system, the TMX units can be hooked behind a standard 1/2-ton pick-up, van or light-duty tow vehicle, saving fuel and hassle. No trailer is needed, and no CDL license is required, making it the ideal option for do-it-yourselfers and small contractors. Lockout drive hubs enable towing at highway speeds of 65 mph.

Unlike conventional mini-excavators, TMX units eliminate tracks by utilizing zero-turn technology common on lawn mowers. The zero-turn rotation enables easy access to tight locations and allows work on well-established lawns or greens by virtually eliminating the potential for turf damage. The drive tires are designed for mud terrain, ensuring performance and traction in demanding applications. Featuring a highly efficient orbital motor with tapered roller bearings on the output shaft, the wheel motors allow plenty of durability for challenging loads.

Weighing only 2,941 pounds (1.5-ton class), the TMX features an eight-foot digging depth, typically found only on a three-ton class or larger machine. With a 6,600-pound digging force, the TMX offers a minimum of 21 percent more digging force than similar-sized competitive excavators, making it one of the most powerful excavators for its size and weight class. The unit features a seven-foot two-inch loading height with a swing radius of 140 degrees, allowing easy digging access next to walls and other obstructions.

In addition to digging power, the TMX offers a 72-inch, 4-way blade system for efficient backfilling and grading after excavation work is complete. The blade features 21 degrees of tilt, making it ideal for precision grading. A fully hydrostatic drive provides ease of operation and ample power at the touch of a finger for both the backhoe and blade.

Contractors may expand the benefits of the TMX even further with the use of the auxiliary hydraulic tool circuit, which has the ability to power hundreds of hydraulic tools including jackhammers, pumps and saws. An electronic control circuit reduces the amount of hydraulic hose needed and enhances efficiency. The TMX Towable Mini-Excavators are available in either gas or diesel models. The gasoline model features a 20-horsepower Kohler command engine, while the diesel version is powered by a 21.5-horsepower Kubota diesel engine.
Though the overall design is compact, the operator's platform offers spacious and roomy comfort with convenient armrest-mounted joystick controls for both digging and grading. The seat is offset four inches from centre, providing an unobstructed view of the digging arm, bucket and backfill blade.