Easy one-operator placement of blocks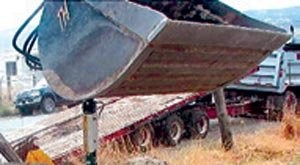 The Gater Grapples Lok Blok Hook is an attachment that gives the equipment operator, working alone, complete control when loading, unloading, installing or placing 4,000-pound locking concrete blocks. At the touch of a button the hook hydraulically opens and spring-closes. When closed the hook mechanically locks and under load cannot be opened.

After the hook is closed on the locking concrete blocks attaching point, the operator can then rotate the block into position, set it down and disconnect, unaided by outside help.

The hook can be used on a range of equipment. It comes in three power models; hydraulic, 12/24 electric and 12/24 electric radio remote-ready for excavators, forklifts, loaders, zoom booms, folding cranes, conventional cranes and hydraulic cranes.