Management system for heavy equipment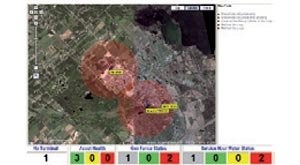 TransCore's GlobalWave satellite communications product line offers an equipment management system to track, manage and monitor heavy equipment. The new line expands TransCore's market for its line of satellite communications technology, leveraging the company's success in commercial truck and trailer tracking.

Through global positioning system (GPS) and geostationary satellites, GlobalWave mobile terminals and the function-rich graphical interface enable operators to reduce operating costs and protect rental assets against equipment failure and theft by wirelessly monitoring critical machine operating parameters.
GlobalWave's Web accessible product provides at-a-glance visibility into the status of equipment, easily determining location and service hour meter data.
The easy-to-navigate interface features street-level maps and colour-coded status indicators to provide usage information almost instantly. User-determined parameters and filters make searches for needed data rapid and efficient, and help locate and dispatch equipment, maintenance, deter theft, or recover equipment.

"Automating labour intensive and error prone manual tasks, the GlobalWave Equipment Management System delivers immediate operational and equipment efficiency," said Brad Poulin, GlobalWave Business Development director. "By bundling hardware, software, and airtime, along with the ease and immediacy of Web-based access to information, we have made the system simple to adopt."