Maxi-Lite EX series to feature vertical tower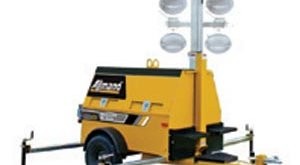 Allmand Bros. Inc. introduces the increasingly popular V Series vertical light tower configuration as a standard feature for its Maxi-Lite EX Series light towers. The ML EX V Series offers the convenience of the vertical tower, a significantly extended run time, a larger, wider, and more stable trailer, and added auxiliary power. This multi-purpose unit brings extra versatility to oil and gas production sites by providing electrical power and lighting with a single machine. It also offers lighting for safety, security and productivity on new site developments as well as existing production sites.
With the V Series design, the mast on the ML EX V Series will vertically telescope and retract from its own housing, resulting in easier setup, simplified shipping, towing and storage, and reduced potential for damage. The V Series configuration features a hydraulic lift system, which allows the mast to be completely raised and lowered in less than 30 seconds. Additionally, this innovative design allows for more intuitive light fixture positioning (angle and direction).